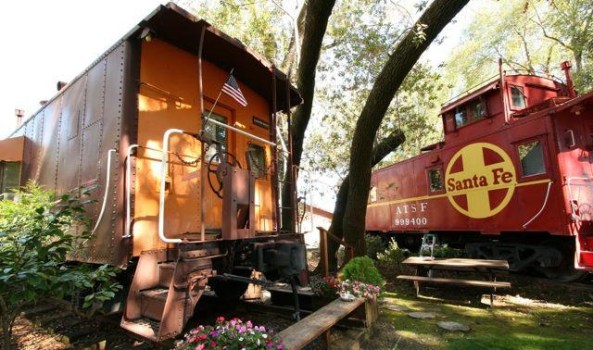 Featherbed Railroad
A "Great Train Robbery"-themed scavenger hunt at the Featherbed Railroad? Oh yeah, people'll be donning their chaps. It all happens on Saturday, March 8, as part of a two-night stay-over package.
HOTEL HIGH JINKS: There was a day, possibly around the release of "Clue" -- a great film among films -- when murder mysteries were all the rage, at private homes, at restaurants, and, yes, hotels. But one of the issues with acting out, with your spouse or friends, a murder mystery-type storyline in a hotel is the setting wasn't always spot-on. The story you were handed was set in the 1920s, and yet there you were, in a tower built in 1978, with all of the 1978-y details. And while suspension of disbelief is a large part of any successful mystery scavenger hunt type deal, an atmosphere that supports the time period, and story, is always a most excellent addition. Take the Featherbed Railroad, up in Nice. The train-themed stay-over will host "The Great Train Robbery" on Saturday, March 8, which is pretty much the perfect fantasy dress-up storyline to set at the inn. Why? Because the Featherbed consists of old-school train cars, cars you sleep inside. So as you're attempting to solve the train-focused scavenger hunt, you will indeed be moving among picturesque train cars. Oh, when theme meets setting! Good stuff.
AS FOR THE OTHER STUFF... to know, know this: The mystery scavenger hunt is part of a two-night deal, so you'll stay at the Featherbed on March 7 and 8. The event itself happens on March 8, "around high noon," when you'll learn about "some varmints" fixed on robbing a train. Can you and your special someone stop the dastardly deed? Spurs crossed. But plan on dollin' up, in "western garb," and plan on other yippee-ki-yay touches to fill out the rambunctious doings. For all the happenings that weekend, and rates, and reservations, you don't need to wait on the arrival of the Pony Express; you only need to click here.