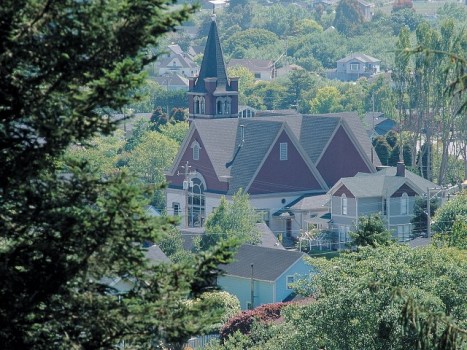 Don Forthuber
Forbes.com called Ferndale one of the prettiest towns in all of the U.S.
DAIRYLICIOUS FERNDALE: If you've been to Ferndale, what do you talk about first? That postcard-perfect main thoroughfare? That famous blacksmithing shop? Do you say the words "delicious cheeses" several times in a row? We'll guess D), which is "all of the above." The Humboldt County hamlet isn't too big, but it packs a lot of loveliness, and memorableness, into every square foot. Forbes.com has noticed as well, and it just named Ferndale one of America's Prettiest Towns.
WHEN TO GO: Well, any time seems like Ferndale time in our books, and probably definitely around the holidays, when the Victorian buildings look especially bough'd- and swagged-out. But if you want to see some quirky action, action that's been going down around the area for over four decades, make for the area over Memorial Day Weekend. That's when the Arcata to Ferndale Kinetic Grand Championship whirs through all of that cow-filled countryside. Moo to that ("moo" here meaning "yay").