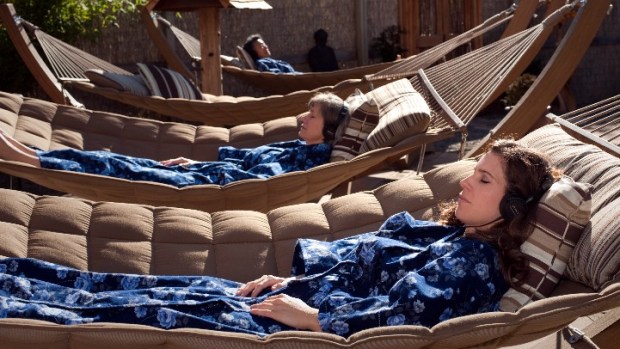 Osmosis Day Spa Sanctuary
Osmosis Day Spa Sanctuary in Freestone has recently completed its Field of Hammocks.
HAMMOCKS APLENTY: Some of us in this world might count ourselves lucky enough to have a single hammock swinging from a couple of sturdy trees in the backyard. But six hammocks? It sounds like a dream. No, honest, an actual dream, where one minute you're eating pizza with your high school math teacher and the next minute you're standing before a row of peaceful hammocks, one after the other. But there is a place with a half dozen hammocks in a row, and it also just got a quartet of Zero Gravity Recliners, which also sound like they hail directly from the happiest part of our sub-conscious mind. We're talking about Osmosis Day Spa Sanctuary, which won't be a surprise to you if you know the Sonoma County destination famous for its unwind demeanor and those much-written-about Cedar Enzyme Baths.
ENTER THE FIELD: The Field of Hammocks has just reached final completion, says the spa, with the addition of the recliners. The recliners promote "the position naturally assumed by astronauts in space," meaning those body bits needing a little break have a good chance for some R&R. And the nearby hammocks? Oh yeah; hammocks are one of humanity's best gifts to the take-a-load-off world of outdoor furniture. There's also a Hemi-Sync Sound Therapy add-on for the hammocks which sounds peaceful and zone-out-able. Want. Whether you go hammock or recliner, you'll at least want to read about those enzyme baths, which are known in parts all over (one reason why: They're the only such baths in North America, says the spa). Let's see: cedar plunge, then some astronaut-type lounging, then a bit of swing-breezy, hammock-style happiness. Three times yes.