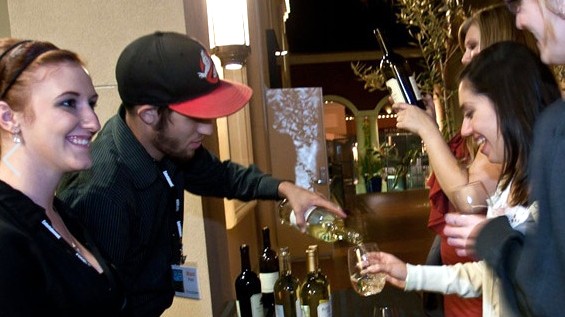 Napa Valley Film Festival
The Napa Valley Film Festival pours/grills/screens from Wednesday, Nov. 9 through Sunday, Nov. 13.
PAST THE POPCORN: It's a fact that a lot things change in this world, sometimes hourly, often secondly. Our tastes and our traditions evolve in all the natural and organic ways. But we very much believe that popcorn will be the quintessential movie food at least seven thousand years into the future (when we'll be surrounded by the movie, rather than watching it on a screen). We're so comfortable with that prediction that any time a bolder film event wants to play with its food, we applaud them. And we're applauding the Napa Valley Film Festival, which is devoting as much space to the plate and glass as it is the reels in the cans. If you're heading up for "Like Crazy" or "Butter" during the Wednesday, Nov. 9 through Sunday, Nov. 13 party, best check out these gourmand-nice treats.
FOODIE PANEL: On Sunday, Nov. 13, the final day of the film fest, a bunch of writers and chefs and thinkers will gather to talk about the rise of foodie culture and farm-to-table topics. Christopher Kostow, chef at The Restaurant at Meadowland, and Josh Skenes, chef at Saison, will be among the chatters. And the Bosch Culinary Stage will be at the Oxbow Public Market for the bulk of the festival. There are other foodly doings, too, so as you're looking at what movies to attend, make sure you take in the tastings and talks. Nope, we're not looking to kick popcorn of its movie-food throne, but we are wishing more film festivals would mix in some audacious eating. After all, how many films is it now that shows a family bickering in a loving fashion at some dining room table? About ten thousand? Food and film, old pals.