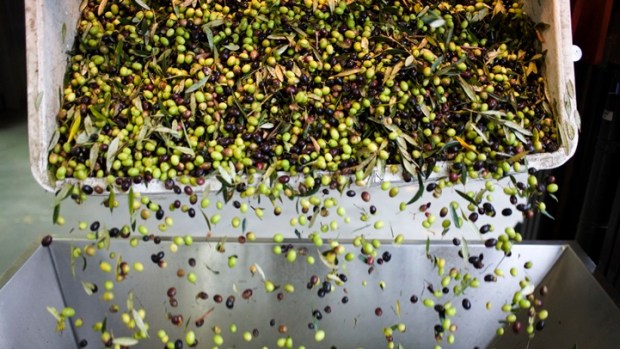 Round Pond Estate
Loads of juicy olives are prepped for the making of olive oil. Want to learn more about the time-old process? Make for Napa Valley's Round Pond on Sunday, Dec. 8.
RICH, ROBUST, TANGY, TRUE: The cook has a few especially close relationships to the items found on the pantry shelf, but there's no truer love than the one chefs share with olive oil. It's a liquid without peer, a flavor addition that does the heavy lifting, good for you in so many ways, and the perfect bread dipper at practically any meal. It takes other accents well, too; garlic folds well into olive oil, as do tarragon, basil, and rosemary. But for as much as we turn to it -- rely on it, really -- we know far less about it, on the whole, than that other popular liquid in the kitchen, wine. Oh, perhaps we're not speaking to you, here. Perhaps you're a regular tour participant at California's acclaimed clutch of olive oil pressers and makers. If you aren't, however, but you've been wanting to dip a toe -- or a crust of loaf, rather -- into this particularly edible educational pursuit, take (healthy) heart: Fresh Oil Day is straight ahead, at Round Pond Estate in Rutherford. Call it the ideal afternoon to get some oil enjoyment *and* knowledge in, all in a brochure-ready setting.
FRESH OIL DAY: The big event pours, luxuriously, on Sunday, Dec. 8. The winery holds regular olive oil tours and tastings by appointment, but Fresh Oil Day is something a bit different. But just as delicious; "knowledgeable guides explain both our sustainable approach to olive cultivation and our time-honored olive oil extraction process." Further, guests may taste and make "by the milliliter" purchases. Each milliliter of oil is 12 cents and at least 100 milliliters must be purchased.
Fun and deep and savory and rich stuff, indeed. Consider it a day full of learning, tasting, winery-wandering, yes, but, if you do purchase, consider that you'll be stocking your pantry with some truly elegant oil