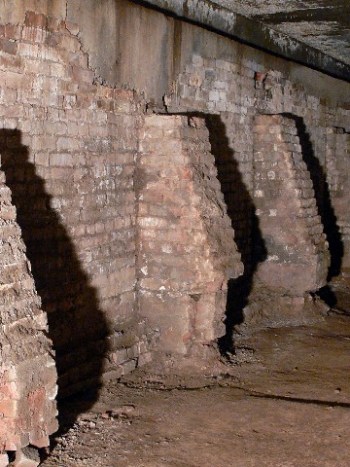 Historic Old Sacramento Foundation
The Old Sacramento Underground Tours start up again on Saturday, April 2.
DEEP HISTORY: There are thousands of mysterious locations around the Golden State, and we're not just talking about the Mystery Spot. (Although musing about the Mystery Spot is one of our favorite over-cocktails conversation topics; you too?) There are other highly atmospheric locales, such as Old Sacramento. We watched hundreds of crows circle over the Old West-y buildings one autumn evening; with iconic Tower Bridge in the distance, it certainly made for a cinematic and skin prickle-producing sight. In fact, we kept using the words "gloaming" and "crepuscular" until our companion asked us to refrain.
EVEN GLOAMIER: If Old Sacramento can pack that much mystery above ground, think of what's below. Wait. Don't think, but see, and learn, and find out more, on the Underground Sacramento tour. The walkabouts kicked off in 2010, and proved enormously popular; so popular they're returning on Saturday, April 2, and will run through November. An adult ticket is $15, and you should note that some of the spaces will be on the small-ish side. Atmospheric indeed, and how.