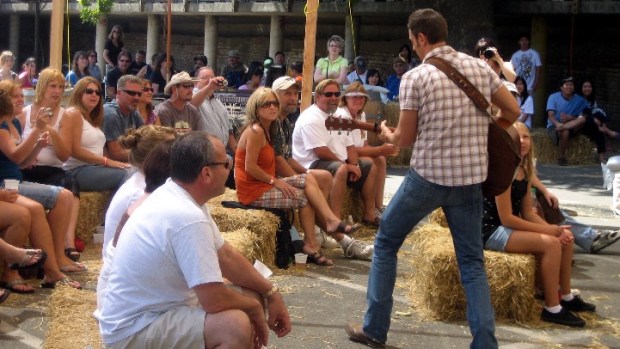 Gold Rush Days
Gold Rush Days get strumming -- and panning for gold, too -- in Old Sacramento over the 2012 Labor Day Weekend.
GOLDEN STATE HISTORY: Plenty of kids around California study up on the Gold Rush and how it changed the course of history (and that's everywhere, of course, not just hereabouts). But far fewer students get the opportunity to get inside the time of the Gold Rush, the early 1850s, when the faces of cities changed practically overnight and "Sacramento" became a word said far beyond our borders. Sure, if you're a kid living in the capital today, or perhaps the western Sierra, you might have tried your hand at gold panning. But we're of the staunch opinion that every young'un should get to know their state history in a fun, dynamic, and in-person way. Meet Gold Rush Days, the annual Labor Day Weekend party that takes over the streets of Old Sacramento.
NOW ABOUT THOSE STREETS... One of the headlines of the holiday weekend festivities is that "(m)ore than 200 tons of dirt" are dumped out on the asphalt byways of Old Sactown, lending them a truly atmospheric mid-century look. (Make that mid-19th century, natch.) Coots in gold-panning regalia and ladies in petticoats wander the area, putting on theatrics and talking with those interested in the role our capital played in the grab for the shiny stuff. It's free to attend -- no gold required -- and there are a ton of activities, including the aforementioned gold panning. Seriously, have you ever seen a kid who has gold-panned for the first time? They're generally pretty stoked about the whole thing, and why not? It's a gas to look for glints in the mucky water. Hey; now we're starting to see some of the appeal of that whole Gold Rush event, after all.