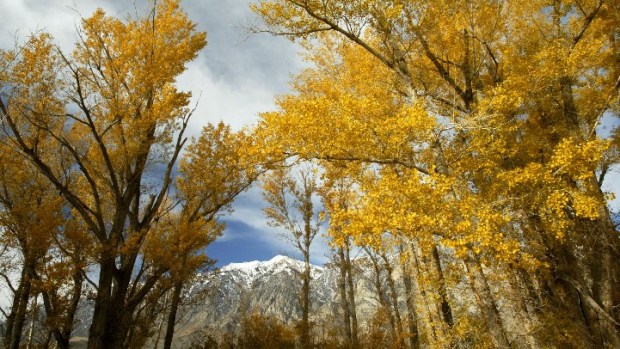 Getty Images
We love the California Fall Color blog.
LEAFY LOVE: When we awoke to news that heavy snow was falling on Mammoth Mountain, we weren't shocked, since we knew a winter storm was in the making. Nor were we dismayed, since snow is pretty and Mammoth is Mammothy and that is all good. But we did suddenly think that if we were going to get our foliage on, we had better get. It. On. Pronto. Not that all of those wonderful oaks and cottonwoods and aspens are going anywhere, but if the cold stuff is already making headway, we should as well, at least in the leaf-peeping department. So it is very helpful that Visit California posted about a great blog that details a lot of natureful California hues. It's called California Fall Color -- that's wonderfully clear -- and its snazzy tagline is "Dude, autumn happens here, too." Tagline, we hug you.
ON THE FRONT PAGE: Why there's June Lake. Hi, June Lake! And a message that Virginia Lakes are "approaching peak." There's a lot of Mono County love, too, and some Shasta Cascade shouting-out. If it has been your intention to do some mountain-style tooling about this autumn, we highly recommend you backpocket this one. Now, California Fall Color. Please direct us to a big pile of leaves -- any kind will do -- that we may jump in and throw at our friends when they try and drag us back to the car and our real life. That's the one thing we want to accomplish this fall. Leaf-based tomfoolery. Thank you.