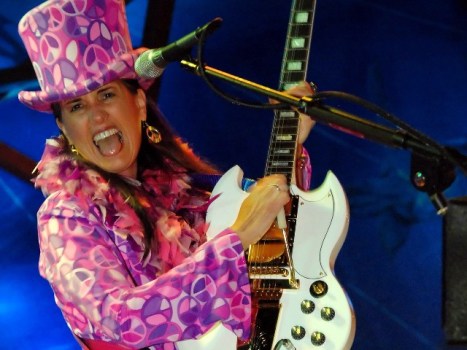 Groovy Judy
Groovy Judy will play the 2011 Good Old Days Celebration in Pacific Grove.
54 YEARS: The Good Old Days, truth be told, have been *around* since the good old days, which sounds like a riddle, or something meta and deep, but we certainly don't mean to be oblique. The Pacific Grove tradition is passed its half-century mark a few years ago, and when anything has been around a few decades, it has had a chance to grow in stature and renown. Which the Good Old Days has certainly done, since it is now billed as "Monterey County's largest art and crafts show." You can have a chance to size that up for yourself, when the party rolls on Saturday, April 9 and Sunday, April 10.
220 VENDORS: Over 200 vendors of the artisan and edible product kind will be boothing it up at the festival, and some 70 bands and entertainment-y offerings will be on one of the multiple stages. We'd definitely sign on for one of those gratis historic walking tours, too, since PG is home to all of those pretty Victorian piles. Oh, and admission to the Good Old Days is free, which seems pretty darn Good Old Days-ish to us.