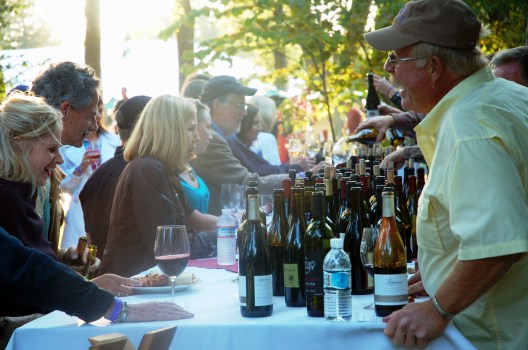 Grape to Glass
Grape to Glass, the annual pre-harvest party from the Russian River Valley Winemakers, sets up the alfresco tables on Saturday, Aug. 18.
PRE-HARVEST PARTY: Harvest time at most wineries throughout the Sonoma region? The word "bustling" goes a long way toward describing the hectic and happy scene. Vintners and employees are busy picking and preparing grapes while tourists soak in the ancient rituals that go into winemaking (well, ancient rituals that are now assisted with modern machinery and techniques, of course). But what do you do if you like the excitement but don't necessarily want to be in the thick of it? Why, you find yourself a pre-party, of course. (Actually, finding a pre-party ahead of any major celebration is always a good tip.) The Russian River Valley Winemakers throw one of the loveliest of the annual August get-togethers. It has that excitement in the air, yes, but it is far easier-breezier than the events set to unfold come high harvest. It's called Grape to Glass and it will be celebrating all things wine on Saturday, Aug. 18.
17TH ANNUAL CELEBRATION: The area's vintners have spent over a decade and a half perfecting their late-summer soiree and they have it down. Barbecue? Check. An beautiful outdoor setting at Richard's Grove & Saralee's Vineyard in Windsor? Oh yeah. Will there people who make the vino around to chat about terroir and tannins and such with the fans? Yep. And will there be bottles upon bottles of local wines? Hmm, tapping chin. Probably, right? We joke. It is all about the wine and the joy of being outdoors on an August evening. And, in that, it is also about enjoying the fun before the bustle kicks in. An individual ticket is $85.