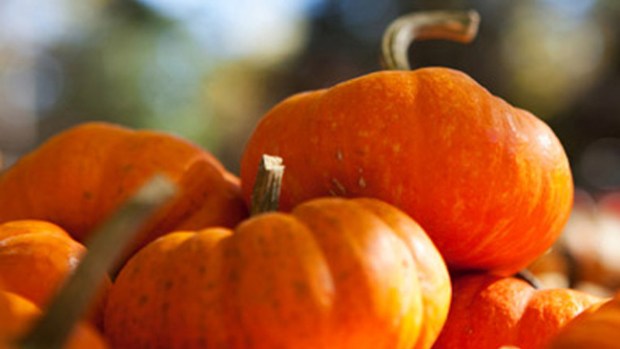 Getty Images
Is a certain seedy orb with an orange hue your jam? Half Moon Bay Brewing Company has the good stuff you want.
SEASONAL SUPERSTAR: Certain towns, during certain times of the year, embrace a particular look or feel or centerpiece, something so huge that it sort of changes up the general vibe of the place. Palm Springs goes full-on modernism, architecture-style, come February, and Riverside's Christmas bustles with the Mission Inn's millions (and millions) of twinkly lights (lights visitors show in droves to see). And what of Half Moon Bay? It's hard not to think of the burg's autumntime without thinking of a globular fruit that's full of seeds and gutsy stringy bits, a squashy superstar of the tallest, and widest, order. We speak of the pumpkin -- "gusty stringy bits" probably clued you in there -- and speak of the Half Moon Bay Art & Pumpkin Festival, which is probably the planet's most famous huge-huge-huge pumpkin party. (We know, "probably the planet's most famous" flirts with hyperbole, but try signing onto any news site during the third weekend of October and not seeing a photo of a thousand-pound pumpkin on a scale.) The fest will roll, maybe in some cases quite literally, over the Oct. 18-19 weekend, but Half Bay Brewing Company is not going to wait. The pumpkin-flavored doings start early, complete with the brewery's Pumpkin Harvest Ale.
FALL FOAM: The big kick-off date for the libation is Monday, Sept. 8, and sippers should prepare for an amber ale of the falliest proportions. More hyperbole? Check it: "more than 500 pounds of Sugar Pie pumpkins" went into the brew, which was created by Brewmaster James Costa. The beverage'll be around through Nov. 30, complemented by the Company's Oktoberfest menu (think sausage platters and wiener schnitzels), which will be available from Sept. 17 through 28. Oh, and as for October itself? The menu will expand with pumpkin-esque offerings, including a bisque and a cheesecake. Half Moon Bay is indeed the gourd-greatest place around, come the fall, and the town steps up its seedy-sweet doings to support the orange extravaganza.