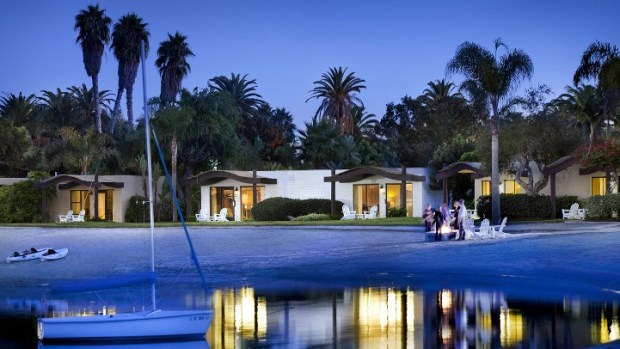 Destination Hotels
Island getaway Paradise Point turns 50 in October 2012. The sandy San Diego spot is offering specials and more.
TROPICS MEET CITY: The early '60s were a heyday of South Seas theming around Southern California. That was the age of the Walt Disney's Enchanted Tiki Room and that was the era of "Gilligan's Island" and that was the time of countless movies set on faraway sands (the faraway sands, of course, were often portrayed by Malibu and other SoCal beaches). So the timing was perfect for an island-set resort with a tropical feel, a hotel and property imagined by a man who had worked in movies. Thus Paradise Point was born, the Mission Bay-located San Diego stay place that has oodles of cinematic charm and a beachy location and a fascinating, flora-festooned history most hotels would be green with envy over. And while many of the Golden State's '60s-era Polynesian landmarks have been torn down or converted -- we're certainly not talking to you, Tiki Room -- Paradise Point thrives. So much so it is celebrating its 50th the year with specials and a big October bash at the Barefoot Bar & Grill.
MARKING A HALF CENTURY: And while we like the deals and raising a toast to a hotel staying true to its roots, we like a bit of story, too. So here's the heartwarming part: Paradise Point has been posting snapshots of newlyweds on their San Diego honeymoon and the story of how they stayed at the Point. It's pretty darling stuff, the photos are fun and appropriately '70s-y looking, and it shores up -- no joke intended -- the property's place in the state's hospitality backstory. Read more about the 50th anniversary or plan a visit to the palm-laden retreat. There are other non-anniversary haps afoot - or, rather, a-board -- like a Learn to Surf package. That sounds perfectly spot-appropriate and day-out-on-the-water-ish to us.