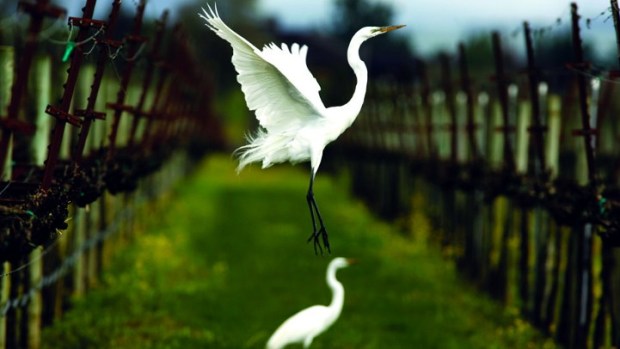 Eric Luse
The Heart of Sonoma's 29th Annual Holiday Open House is ready to take flight over on Friday, Nov. 23 and Saturday, Nov. 24.
'TIS THE SEASON: If you're a little obsessed with winery tasting room decor like we are -- don't fib and say you aren't checking out the place while you stand and sip your two ounces of last season's best-selling pinot noir -- then you'll know what we mean when we say that it always looks like the holidays inside a tasting room. Exhibit A? We've seen roaring fires going in the summer months. We know, we know, they're often roaring for beauty's sake, but still (not that we don't like it, it's just funny, is all). Also? Lots of little twine wreaths and natural-world gewgaws that look as if they came straight out of the Christmas decoration trunk. (Again, we like, but it is an observation we've had.) And finally? It can be blazingly sunny out in the vineyard but the tasting room is often dark and cool, lending a winter-like event to the tasting proceedings.
WHICH ALL MEANS... That when the season does roll around in wine country, the stage is already set. It just feels like the yuletide at a winery, quite often, and it certainly will on Friday, Nov. 23 and Saturday, Nov. 24 when the Heart of Sonoma throws its 29th Annual Open House. The delicious, two-day confab rounds up 27 wineries, including Benziger Family Winery, Imagery Estate Winery, and St. Anne's Crossing winery, and gives oenophiles a great way to try a lot of 'em. A two-day ticket for both days is $45, and designated driver tickets are ten bucks. Now, we're not saying you need to report back, but, truly, are you with us on that? That wineries tend to lean toward the winter decor, year-round? Meaning a holiday open house at a collection of Sonoma wineries is a very cheery place to be, indeed.