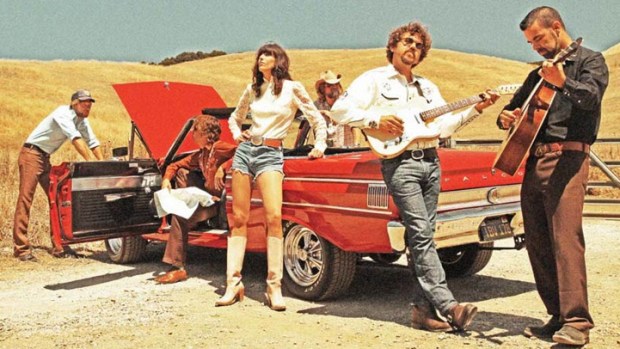 Brokedown in Bakersfield
Brokedown in Bakersfield rocks the Petaluma Music Festival on Saturday, Aug. 2.
EVERY GATHERING... about art has purpose at its heart and it is this: Enjoy the art. Be in the moment, be inside the song, enter the painting, embrace the craft or the dish or whatever the thing that has been created and presented to you happens to be. Scholars have argued throughout time that art is for art's sake and the pleasure of it is in the taking of pleasure. But, of course, if some extra special nice good stuff can be done, well, then, by all means, do it. This is the tack taken by the Petaluma Music Festival, which celebrates its seventh year in 2014. Summer time is tunes-played-outdoors-on-a-big-scale time, for sure -- you can't pass an amphitheater or pavilion without seeing that fact -- but the non-profit Petaluma gathering keeps it especially local, and lovely, with its aim: Help music education in the region. "Keeping music in our schools" is the theme of the day and "(p)roceeds from this annual event will be distributed among Petaluma's public elementary and secondary schools to provide funding for their music programs." The festival gave over twenty grand in 2013. Want to play a part in that paying-it-forward-ness? And groove to some early August tunes? Then make for the Sonoma-Marin Fairgrounds on Saturday, Aug. 2.
THE LINE-UP: Galactic -- they're from New Orleans, yep yep -- is the day's headliner. The Mother Hips, Brokedown in Bakersfield, Sister Sparrow & The Dirty Birds and several more acts'll twang-Americana-jazz-roots-funk-rock-chill it out. A ticket is forty bucks and that's good for nine hours of music-festival-giving-back-non-profit-coming-together awesomeness. Yes, awesomeness. Our teachers in school cautioned against trucking out words like "awesome" when one wasn't truly filled with awe -- yours, too? -- but a day spent raising funds for teaching children about music, and to love music, absolutely qualifies on the awesome scale of things. We're standing by it.