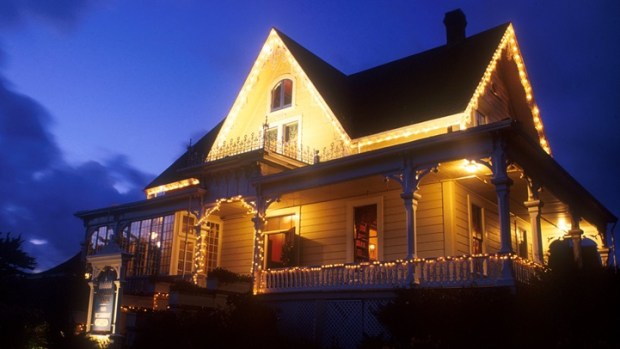 MacCallum House Inn
The MacCallum House Inn and five other Mendocino destinations will be fully gussied up for the Mendocino Coast Candelight Inn Tour. Join a stroll on Dec. 12, 13, or 14.
CHRISTMASSY QUIRKS: The end of the year delivers many doings that are specific to the holidays. They're the kind of events and outings we don't engage in during the rest of the year, but come December? We're all about them. Gingerbread consumption is high up on that list, as is the sipping of hot toddies. Caroling qualifies, as does the hanging of ornaments. And one really lovely one, that doesn't pop up in every quaint town but definitely should, is the evening-sweet inn tour. Consider that bed & breakfasts are already charming year-round, with some keeping decorations up which, if they aren't exactly Christmas-like, definitely are within that warm-hearted realm. But one only ever really goes to an inn if one is staying at an inn, meaning there are many you pass by without ever peeping in the front door. The candlelight December tours change that up, by opening inn doors to one and all. The Mendocino Coast boasts an annual inn stroll, and the lights and fir trees and baubles are already asparkle.
ALBION TO FORT BRAGG: A sparkly sextet of buildings -- four inns and two museums in all -- are set to gussy-up, majorly, for the middle weekend of December. MacCallum House Inn, one of the county's best-known getaways, is on the list, as is the Kelley House Museum. Think of it as a holiday jaunt with a strong dose of Mendo history and lots of twinkle and treats. Good stuff all around, yes? Indeed, especially since you'll finally get to look inside those picturesque buildings you've driven by before. The tours happen over a trio of evenings -- Dec. 12, 13, and 14 -- and various regions of the coasts will be featured. A ticket for all three days? They're $25 each.