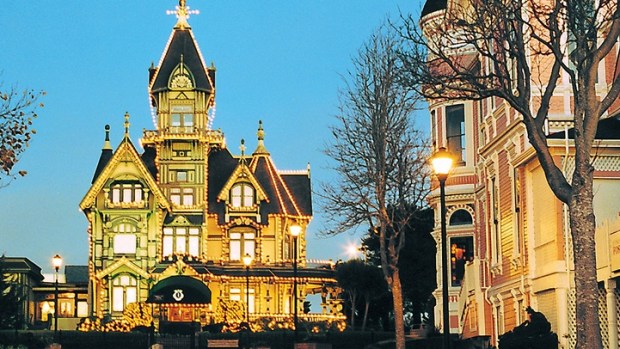 Don Leonard
It's a one-of-a-kind sight: Eureka's Carson Mansion twinkles in a December glow.
THE LAND OF CHRISTMAS TREES: Many people like to see firs and pines and shrubs indoors during December. They like to see a wee tree all lit up and covered in ornaments and bows. But others like to commune with trees in their natural habitat, the forest. And one of the most famous forests, and stands of famous trees, in the world happens to be inside California, up in Humboldt County. We're talking about the Avenue of the Giants, and the other close-at-branch groves of the giant redwoods. Nope, those will never go in anyone's house -- they shouldn't ever, for one, and two? A redwood is hard to get in the front door, right? -- but we can admire their beauty and peace in this season of peace. A nice addition is that nearby Eureka and Ferndale and Arcata and the other towns of the area have a lot of charming haps afoot.
ALBINO REDWOODS: Let's talk first of the actual Christmas Tree, or a tree named the Christmas Tree, since we got to talking about treely matters. It's an albino redwood, there are only about 50 around, and it grows in Women's Federation Grove. There are interesting pictures, if you like that sort of thing. Outside of the groves, though, people will be making merry around Humboldt County. Look for a Christmas Music Festival in Fortuna, and Lighted Tractor Parade in Ferndale, and a Holiday Craft Market in Arcata. There are winter lodging specials going down, too, so big ups to that.