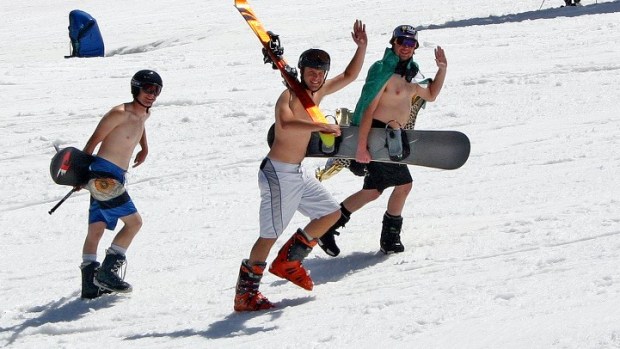 Alpine Meadows
Alpine Meadows will reopen for Fourth of July 2011.
TOTAL SENSE: It makes total sense to us that Alpine Meadows, the mega Lake Tahoe ski and snowboard resort, would choose mid-May to announce that the resort will reopen for the Fourth of July. One, this is just about the time of year when people start hearing about summertime flex Fridays and who is taking what holiday weekend off. So in short? Yep. That July holiday weekend is on a few minds. And secondly? Alpine Meadows shutters for the season on Saturday, May 15, meaning fans will start asking when they can next return to the mountain.
JULY SNOW: "Non-stop slopeside parties" are on the docket for the July 2-4 weekend; the live bands will help that non-stop-ness of those parties. And then, of course, you will have the occasional bikini skier. Wait, did we say "occasional"? We didn't mean occasional. Bet you'll see more boarders and skiers out in skivvy-like wear than not. Best look into tickets before remembering you wanted to do this on, oh, July 1 or so.