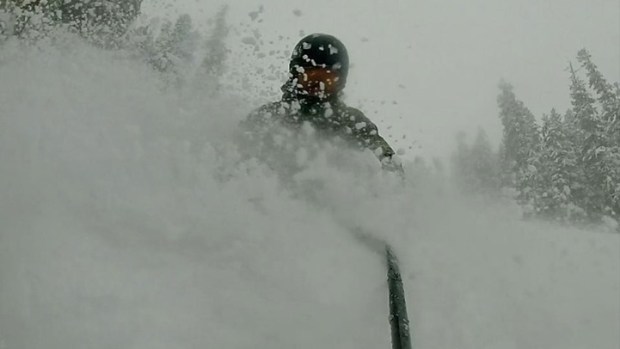 Sierra-at-Tahoe
Sierra-at-Tahoe is very happy about the falling white stuff, and is ready to celebrate with its patrons via a Saturday-fun deal.
THE FLAKES ARE FALLING: To say that people at ski resorts and mountain destinations across the state are a wee bit excited about the flaky precipitation that started in earnest on Thursday, Jan. 30 is beyond understatement. The people behind Yosemite National Park's Facebook page even got a bit cheeky in a post: "We woke up this morning to find water falling from the sky and a bit of cold white stuff at the higher elevations. Confused, we consulted old Yosemite Nature Notes and discovered what we were seeing was called 'rain' and the white stuff higher up was called 'snow.'" Oh, Yosemite, you witty wits. It is a bit of a shock, and a joy, to see what typically happens in January to be happening, especially after the long spate of spring-like, dry-dry-dry days experienced at our resorts. And many are celebrating, including Sierra-at-Tahoe, which wants its patrons to benefit by every fresh inch that falls.
WHICH MEANS THIS: The resort is going to tally up the inches dropped by this most welcome of storms, and pass on the savings. A Thursday, Jan. 30 Facebook post reads "Save a $1 for every inch of snow that falls. Buy your ticket online tomorrow afternoon, after we get the storm total." The tickets are for Saturday, Feb. 1 only, but if you've been waiting for the cold, skiable stuff, we'll just guess you were planning on going to a mountain over the weekend. Have another favorite spot you like to visit with your board or poles? The people behind your go-to place could be equally as joyful over the much-wished-for flurry-maker, with more specials to boot. Even if prices don't inch down as the inches add up, you have to hit the slopes: Winter is dwindling, with February already at our front door.