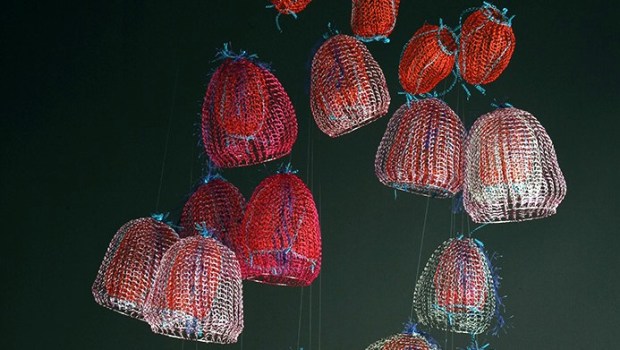 Monterey Museum of Art
Arline Fisch: Sea Jellies will go on display at the Monterey Museum of Art on Saturday, March 24.
MUSEUM AND AQUARIUM: It's a very rare occurrence, the pairing up of a museum and an aquarium on a similar theme. But when it does happen it tends to have a bit of magic to it, and some marine-based whimsy. We're happy to see that a new dose of double-focused art and nature is coming down the pike and it is bringing with it that most ethereal of ocean dwellers, the jelly. (You might want to argue that sea horses or various plants are more ethereal than jellies, and that's cool, but we'll probably stand firm on this one.) The new Jellies Experience at the Monterey Bay Aquarium is set to open on Saturday, March 31, and preceding it by a week? Arline Fisch, Sea Jellies at the Monterey Museum of Art. Nope, it isn't mere coincidence that a jelly-themed exhibit and show are opening within days of each other; it was all part of some aquarium-on-museum love. Which is one of the best kinds of love, of course.
SEA JELLIES ART: Any art taking on the jelly is almost bound to be flush with fantasy and whimsy and the dangling, life-sized artworks Ms. Fisch has created are no exception. We long to hang her jelly-type, red-hued, creature-laden lantern in the middle of our living room. So, here's where the partnership comes in: Present an aquarium membership card or ticket at the museum and get 50% off your admission. The Jellies Experience will be at the aquarium through summer 2015, while the Arline Fisch show swims away on July 22.