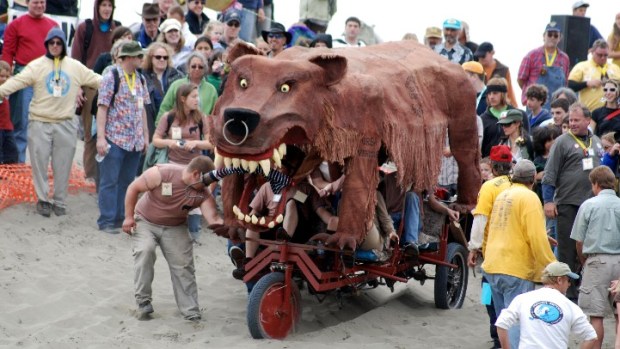 Richard Stenger
The Kinetic Grand Championship roles from rolls from Arcata to Ferndale over Memorial Day Weekend 2011.
KINETIC COOL: There are a lot of races that celebrate human ingenuity and general all-out daffiness (there's one such derby happening in LA in the days of ahead), but few events go to the lengths of the Humboldt County-based Kinetic Grand Championship. Now we mean "lengths" figuratively and literally there. The race rambles from Arcata to Ferndale, which is a goodly distance even in a non-human-powered vehicle. And it takes up the bulk of Memorial Day Weekend. So. Great lengths indeed. And the figurative lengths? One only need review past pictures and marvel at the machines. They roll, they ride, they twirl, they even float out on Humboldt Bay. Maybe. Maybe float. Depends.
2011 DATES: Saturday, May 28 through Monday, May 30. We'll also note that the area takes great pride, and deserved pride, at being a forerunner in the field of Building Amazing Machines That Sometimes Move and Sometimes Don't. An artist kicked off this happy kookiness back in '69, and Humboldtians have real local pride about the looks-easy-but-probably-isn't event. Don't you wish you could have kicked around Humboldt County back in 1969? (Maybe you did, and maybe we're jealous.) Time machine, take us there now. Better yet, will one of you Kinetic champions build that take-us-to-Eureka-circa-1969 time machine for us? Thank you.