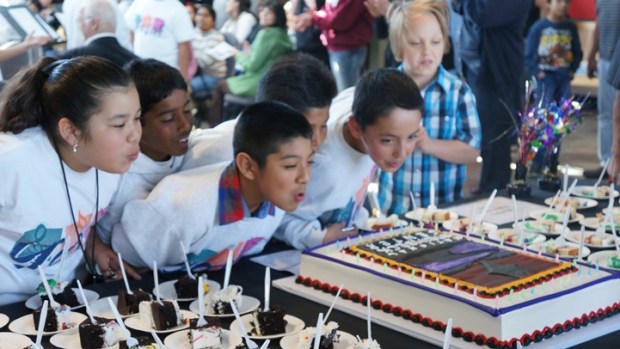 National Steinbeck Center
The National Steinbeck Center throws a birthday party for its beloved namesake on Sunday, Feb. 23.
HOW WE REMEMBER: We humans are pretty good about honoring the birthdays of our loved ones and co-workers and, yes, our pets, but we'll often take the cheerful sentiment a bit further. Or make that a lot further: Movie stars and musicians who have influenced us or bettered our lives in some way will receive a number of tweets and various social media wishes on their big days, and fans'll send notes to sports favorites and artists. But how do we pay tribute to the memory of a favorite writer on the anniversary of his or her birth? Visiting real locations mentioned in their books or essays is one excellent way to peacefully commune with their legacy, yes. Or a day spent at a library or a bookstore, perhaps ferreting out that one unbought tome, is another. But options rather widen if your favorite writer has a national, exhibit-smart center named in his honor. John Steinbeck does, of course, in Salinas, and the National Steinbeck Center celebrates "The Grapes of Wrath" scribe each year in February, with a big bash thrown in his honor.
THIS EVEN MEANS... cake and free admission for Monterey County residents. But even if that isn't you, you should absolutely plan to visit, especially if Steinbeck's words have impacted your life. (Please, "Travels with Charley"? So moving.) It's "a day filled with fun, entertainment, activities for the entire family, and valuable information about John Steinbeck's work and life." And that date? Sunday, Feb. 23. (Yes, indeed: Mr. Steinbeck was born on Feb. 27.) If only every writer could have a large community-nice celebration held in his or her memory, and as a way to pass the stories onto new generations. Can't that happen for more authors? National Steinbeck Center, lead the way.