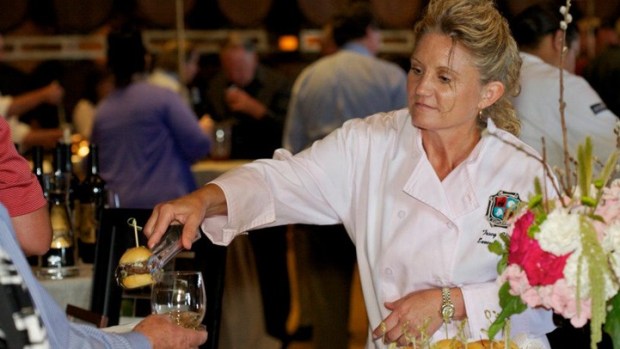 Taste Our Terroir
Wine fan? Food fan? Love on the Livermore? Yep, we hear you. Make for Taste Our Terroir and enjoy a full array of what the wine area has to offer (hint: yummy stuff).
WINE + SUPPING=HOORAY: How would you sum up the perfect wine country weekend? Nope, you don't need to include curling up by your rustic stone fireplace with a stack of magazines you've been meaning to thumb through. (And, honest now: Can one simply just plop down in front of a rustic fireplace or must one always "curl up"? We vote the latter.) When you think of an ideal weekend in a wine-nice area, think beyond your inn or bed & breakfast and consider the qualities you might want. A? A place that's not too far from home, so you're not on the road all day just to even get there. B? A spot that's been well-accoladed and is loved by many, but still feels, in some ways, like a sweet secret. And C? Food. Food with the wine. Lovely, lovely vittles. Because while wine tastings are most excellent, and little round crackers to cleanse the palate between each swish are helpful, sometimes one longs for a heartier wine experience. Enter the multi-day food-and-wine-pairing event, and enter, you guessed it, Livermore Valley.
TASTE OUR TERROIR: Like a little love letter sent directly from the heart of harvest -- yeah, thinking about food-and-wine pairings makes us all poetical -- Taste Our Terroir lands near the middle of summer each year. The dates this year are Thursday, July 18 through Sunday, July 21, and the happenings are plentiful. There's the kick-off supper on the first night, yes, but loads of other to-dos following, like Wine and Food Pairing 101 at Concannon Vineyard on Saturday, July 20 and a Wine and Cheese Tasting -- French vs. American -- at La Rochelle Winery on Sunday, July 21. The Ports of Call Wine Stroll on Friday night, which spotlights the sweeter, dessert, and porty libations and takes in seven wineries, tempts, too. Oh, September, we long for you and your many heartier wine/eats options, but Taste Our Terroir takes us to that place a little bit early.