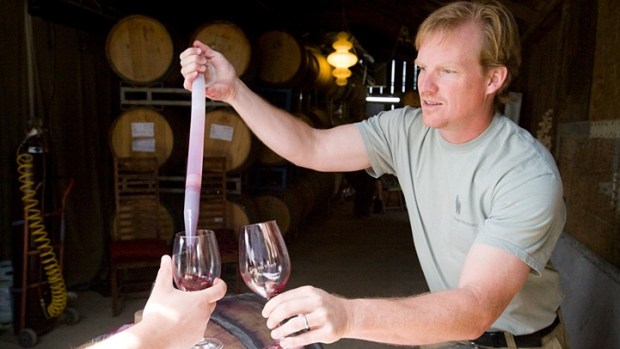 Livermore Valley Winegrowers Association
Dane Stark of Page Mill gives a wine fan a taste. The Livermore Valley's Barrel Tasting Weekend rolls on Saturday, March 23 and Sunday, March 24.
HALF DECADE: The first weekend of spring might, and we're just saying might, all italics, be the prime weekend of the year for doing, well, anything. Getting married, not getting married, starting a business, planting a garden, cooking a new dish? It's all enhanced by the late-March-ness of things. Even a barrel-tasting extravaganza, which is pretty good to begin with, feels a little special, what with flowers blooming in and around vineyards, doing their brochure-y best to impress. But the main draw of the Livermore Valley Barrel Tasting Weekend, which marks a half-decade in 2013, is, of course, what's in the barrels. Nope, it isn't flowers, though some may describe the taste of the wine as flowery (or dry or straightforward or oaky or buttery or all of the above). The weekend is set to roll for its fifth outing on Saturday, March 23 and Sunday, March 24.
30+ WINE VARIETALS: You'll get the whole spectrum of bouquets during your Livermore leg, thanks to the solid number of varietals on the roster. Big White House Winery, Crooked Vine Winery, John Evan Cellars, and Las Positas Vineyards are five of the 30+ names. A ticket is $35 ahead of time, five bucks more on the day-of. And, really, Livermore. We know, we've sung in this space multiple times about the area's virtues when it is summertime toasty (we love it). But spring just might be Livermore's loveliest season, and things aren't hectic around the wineries, like in fall. It's all good.