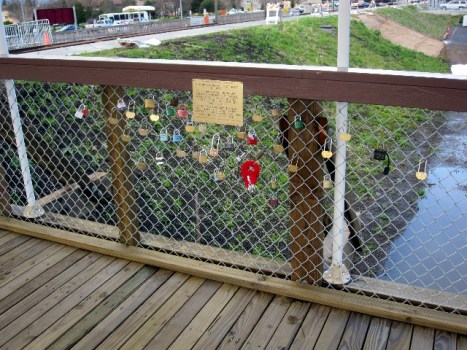 Napa Valley Wine Train
A pair of red handcuffs were left on the Love Lock Bridge at Napa Valley Wine Train on Valentine's 2011.
LOVE LOCK TWIST: It was only a couple of weeks back that we were trilling over a certain train-close fence that lovers hang locks on, to show how this-is-forever-y their relationships are. Sure, the Love Lock Bridge fence, which is close to the Napa Valley Wine Train station, will come down one day. But hanging a hefty piece of metal? And then tossing the key? Sweetable, yes, but also very tweetable.
VALENTINE'S 2011: Turns out someone else, or more likely two someone elses, had a different idea. The train reports that a pair of fuzzy red handcuffs have shown up on the Love Lock Bridge's fence, among all the more traditional locks. What can we say? Well-played, fuzzy-red-handcuffers. Very well-played. It's hard to one-up locks left with love and devotion, but you just can't face fuzzy down.