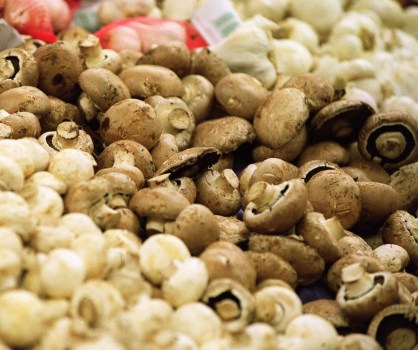 Getty Images
Mendocino throws a Wine & Mushroom Festival from Nov. 4 to Nov. 13, 2011.
ROUND NUMBER: You've been to Mendocino County. You've likely gone on some hikes, given the fact that the area happens to be singularly stunning. So you know it can be a bit damp, a bit verdant, and you can guess that it is likely home to a few varieties of fungi. But do you have a guess as to how many different mushrooms grow in the county? We won't leave you hanging. It's 3,000. Actually it is over 3,000. We were going to go for 700 or so, and even that seemed high. Of course, not every one of those 3,000 mushrooms are edible -- about one-sixth of them are. Now. We're not sure you'll sample all 500 of those mushrooms over the ten-day Mendocino Wine & Mushroom Festival, which is sprouting around Mendo from Nov. 4 through 13, but if you give it a good try you can probably take in a few dozen. Which is impressive and very tasty.
FESTIVAL HAPS: There are several distinct doings going down, but here are a few we'd love to partake in: Mushroom Hunt Horseback Rides. We'd never put those four words together and now it sounds like the most adventuresome outing in the world. We also like the mushroom art exhibits and the mushroom identification walk. The only thing left to do, besides choosing your shroomy doings, is to decide why you love the fungus so much. We're fond of the gills, at least for beauty. Taste? Well, mushrooms have cornered the hearty vegetable market. Yes, the word "meaty" is often trotted out and rightly so. Get your information and get Mendo-ing now.