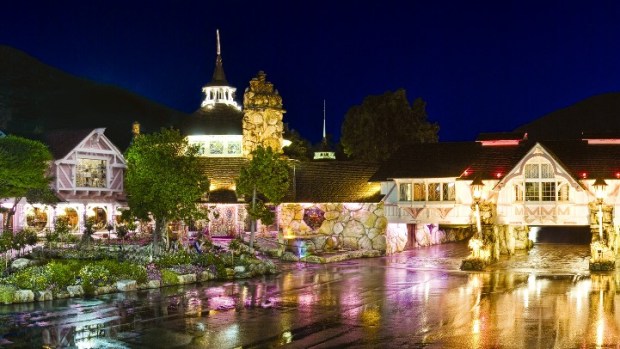 Madonna Inn
Christmas at the Madonna Inn? It's a Central Coast tradition.
JUNE 9: Or March 14. Or September 26. The date doesn't matter. If you've been to the Madonna Inn in San Luis Obispo on any day of the year that falls between Jan. 1 and Dec. 31, you've known the joys of the surprise and slightly surreal Christmas. You know what we mean, yes? You walk into the steakhouse, with its high-backed red chairs and glittery gold lights and the doll on the swing and, for just a moment, you think, "wait, did the Yuletide arrive and I somehow missed it?" Because it is always kind of Christmas at the Madonna Inn (let's not even go into that spiced fruit compote they serve year-round in the Copper Cafe; that's like breakfast-under-the-stockings food). So when Christmas arrives -- the real Christmas -- you have to wonder how much more Christmasy the 101 landmark can get. The answer? Much.
80 TREES: Yep. The Madonna Inn puts out eighty Christmas trees. We know. It's a large place, and roomy, and it has plenty of nooks, but you're probably thinking to yourself, where will those trees go? They fit. And they lend a certain twinkly merriment to the Inn's Christmas Eve and Christmas dinners. The Christmas dinner menu is live and has a lot of the Gold Rush Steakhouse classics (plus holiday faves like ham, turkey, and duckling). We have three more words to type before we depart: "animated elf dolls." Oh yes. It's the Madonna Inn. Of course they're going to put out the animated elf dolls. It's a given.