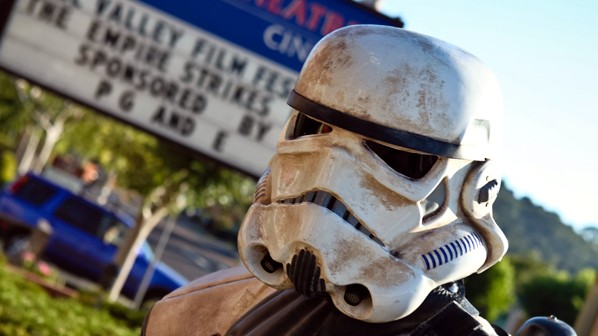 Misti Layne
A Stormtrooper says howdy at the 2010 Mill Valley Film Festival. The 2011 festival opens on Thursday, Oct. 6.
MOVIE TIME: Mill Valley's longtime film festival? The key words to note about it are that it offers a "high-profile, prestigious, and non-competitive environment." Meaning that a lot of the films that'll show up on the awards circuit later this year and the early next year tend to make a cameo during the week+ party. And yet there's a fun, zazzy element, too; a Stormtrooper showed for the 30th anniversary of "The Empire Strikes Back" in 2010. Now that is a perfect film gathering; get us thinking and then throw in a bit of sparkle and sci-fi right in the middle. The 2011 dates are Thursday, Oct. 6 through Sunday, Oct. 16.
THE FILMS: "Butter" with Jennifer Garner will screen; we've been seeing images from that one near and far. And "Diana Vreeland: The Eye Has to Travel." There's also a special segment of the festival devoted to kid flicks -- great kid flicks, we'll add -- and the self-explanatory Valley of the Docs. In short it is big, meaty, expansive, but, again, non-competitive, which lends a nicely laid-back air to the proceedings. And oh; the festival will pay tribute to both Glenn Close and Michelle Yeoh. Get ticket and date info now.