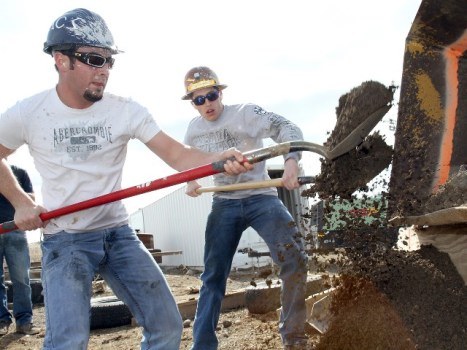 Jean Dixon
Mining Engineering students Chris Faiman, left, and Zach Zastoupil practice hand mucking, one of the events in the International Intercollegiate Mining Competition, March 17-19 at Peccole Park on the University of Nevada, Reno campus. Photo by Jean Dixon, University of Nevada, Reno.
MINE TIME: We're guessing you're the type of person who could spend a week reading on how the Transcontinental Railroad came together, and the methods used to procure and treat the rail ties, and the engineering that went into the feat. Are we right? Thought so. The sad fact, though, is there aren't all that many events that people who enjoy the old-timey methods of digging and building can get out and enjoy in these here modern times. So when we saw an historic mine competition was headed for the University of Nevada at Reno, our sweet-on-19th-century heart swooned.
MARCH 18-19: Over 30 teams will be gathering near the university on Friday, March 18 and Saturday, March 19 for the International Intercollegiate Mining Competition. Students will then proceed to jackleg and Swede saw and trackstand and muck and gold pan and participate in other mine-type activities that don't necessarily get much play nowadays. True, we only knew the term gold-panning without consulting a dictionary, but the other activities involve things like sawing pine timber and doing some serious vertical-rock drillage. So. Interesting, and surely fascinating for the historic mining buff to watch. Mackay School of Earth Sciences and Engineering is the organizer; the action goes down near Peccole Park.