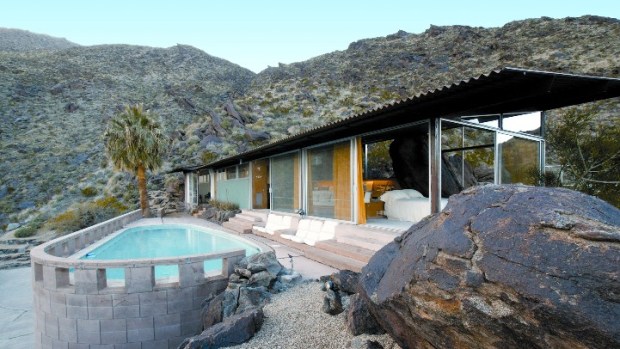 Frey House II
The Frey House II will be one of the stars of 2012 Modernism Week in Palm Springs. The event runs from Feb. 16-26.
PSYCHIC BASE: Everyone has a psychic base or two, a place they love to revisit, again and again, in their thoughts and daydreams. We probably have about 37 psychic bases, which, really, is too many, but we're loathe to clear out the shelves. Take the Frey House II in Palm Springs. It's a mid-century masterpiece, yes. It makes optimal use of windows and views, it is true. And the scrubby desert setting is Coachella Prime. But our Frey affections -- afFreyctions? -- stems from the fact that there just happens to be a giant boulder inside the house. Wait. Should that be italicized? There's a giant boulder inside the house. Need anymore be said? No. Do you feel jazzed by giant boulders inside homes? Probably. Do you want to get to Palm Springs for Modernism Week, one of the planet's premiere celebrations of mid-century architecture, design, and creativity? Yes. Do you want to know the dates? Okay: Thursday, Feb. 16 through Sunday, Feb. 26.
TOURS AND MORE: Modernism Week is more than a week long, obviously, and there's more to it than a few lectures. It's plum-packed with goodies and go-outs, in fact, so designing what you want to do is paramount. Us? Yep, we're tempted by the Frey House II tours, as well as the exploration of bank design. Oh, and the Eames film, and the tribute to Quincy Jones. It's all pretty amazing, and it's all pretty popular, meaning tickets are going. Click now, boulder-in-the-living-room lover. Click now.