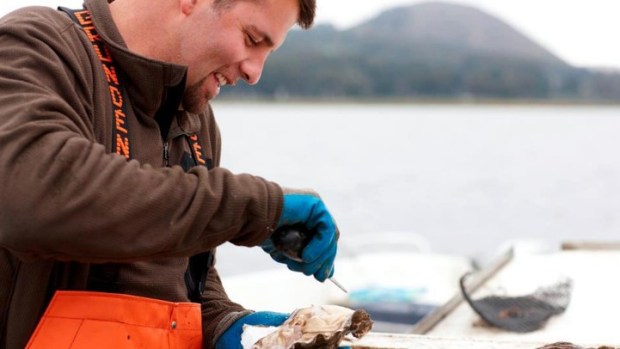 Central Coast Oyster Festival
The Central Coast Oyster Festival gets shucking in Morro Bay on Saturday, June 16.
BAY-CLOSE BASH: If a friend of ours approached us and said, "say, there's this shindig in Morro Bay..." we'd totally do the waving-hands, semi-rude-close-friend thing that longtime pals sometimes do. Which is basically the sign that conveys "please, you don't need to tell me another thing, I'm going, it is on, whatever it is, if it is in Morro Bay, we're there." We love Morro Bay, like you likely do, too, because it is one of the jewels of a bejeweled Central Coast. (We know, we're devolving into total travel writer lingo here, but, c'mon, there's that giant, almost sci-fi-ish volcanic plug that sits just offshore, which is frankly epic.) But if our friend were to continue, hurriedly, and say "yeah, so, there are oysters and art installations and music at this thing" we'd immediately walk to their car, get in the passenger seat, and demand to be driven to the party at once. (We'd share gas money and driving duties, of course; we may be demanding but we're not selfish). And then we'd demand to know the name which is this: Central Coast Oyster Festival. And it's just ahead, on Saturday, June 16.
WHAT'LL BE THERE: Oysters. Plus lots of other eats, including Thai, Italian, healthy selections, and at least a half dozen local wineries. There will be music and there will be art installations from LA's own Do LaB. Been to Coachella? Then you know your Do LaB and you know the works'll be eye-popping and photo-worthy. The festival is happening on the Morro Bay Golf Course, *not* the famous Morro Rock, but bet the setting'll be breezy and special. And just hope you don't run into us there, because if you do we're liable to tell you everything we know about volcanic plugs, like Morro Rock, as we studied up on the topic during our last Morro visit. And we do mean studied up. Studied like we planned to teach the topic of volcanic pluggery at the college level. It is fascinating stuff. So please pass us another oyster and we'll start at the beginning. So there are these big rocks that aren't actually true rocks but rather masses formed by extreme heat and pressure within volcanic cones...