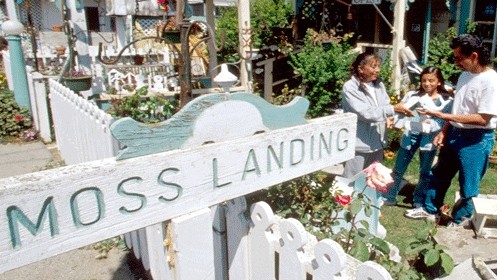 Moss Landing Antique Fair
The 42nd Moss Landing Antique Street Fair is on Sunday, July 31.
SOMETIMES, RIGHT? Sometimes a line will leap out from a write-up and stick in your craw. The sentence "Moss Landing's population grows more than tenfold during the Moss Landing Antique Street Fair" has been the sticker with us. That's one serious event. That isn't a thing where a couple of chairs are set on a curb with some price tags and one or two people toodle by to bargain (although, look, those have their benefits too, and we never want to discourage the wee sales). But given that the Moss Landing biggie has been around for over four decades -- 42 years to be exact -- and given that it happens at the height of summer, when people are more apt to be outside and browsing, and given that it has a rep for some interesting finds, we'll call this is a biggie.
TIME AND DATE: The chairs and mirrors and lamps and little dishes with the strange legs and curlicues (for candy? cotton balls? both?) will be set out along the roads of Moss Landing on Sunday, July 31. Over 200 dealers are expected to participate. And did we see artichokes and fried fish will be for the buying/eating? It's Moss Landing. You bet. Interesting vintage tables and leafy greens dipped in butter=perfect summer Sunday out. Quote us.