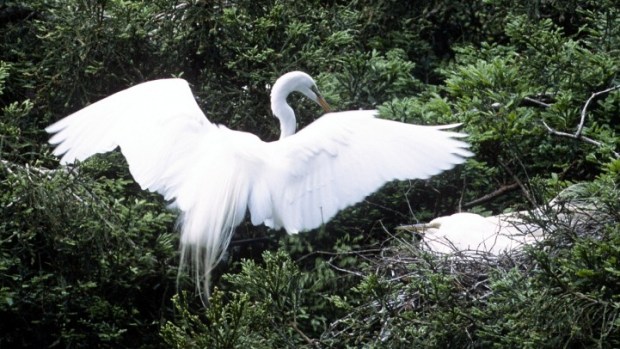 Audubon Canyon Ranch
See snowy egrets during a Mother's Day Barbecue at Audubon Canyon Ranch.
EGRETS, MOM, AND YOU: While Mother's Day typically brings a plethora of interesting ways to fete your #1 special lady, we're going to bet that she'd love to do something that a) would give her some time with you, her family, and friends and b) helped beautiful wildlife in some way. We're not going out on a limb here, right? Didn't think so. Going out on a limb, however, will be a flock of beautiful snowy egrets and they'll be doing so at the Audubon Canyon Ranch. The Ranch, in association with the Marin Audubon Society, is in fact again hosting its much-loved Mother's Day Barbecue, which happens to be in support of the society. And yep, snowy egrets will be some of the feathery stars of the day, in addition to the other chirping, winged, wonderful residents of the Stinson Beach ranch.
THE BARBECUE: It's happening on Mother's Day proper -- that's Sunday, May 13 -- and tickets are $25 for adults (and just half that, or about, for kids -- their admission is twelve bucks). It will be held in an orchard at Volunteer Canyon. There's also a chance to hike into Martin Griffin Preserve to admire a "heron nest site." There are a few to-knows, like the ranch's suggestion that you arrive with your own eco-nice plates and utensils; also, no pets are permitted. And here's a fact we love: This annual picnic turns 50 next year. Clearly a lot of moms and kids have been oohing and aahing over the egrets and herons of the preserve for a few decades now. In fact, did some of today's moms come as kids with their own moms back in the '60s and '70s? Heron love lasts a lifetime, so we'll guess yes.