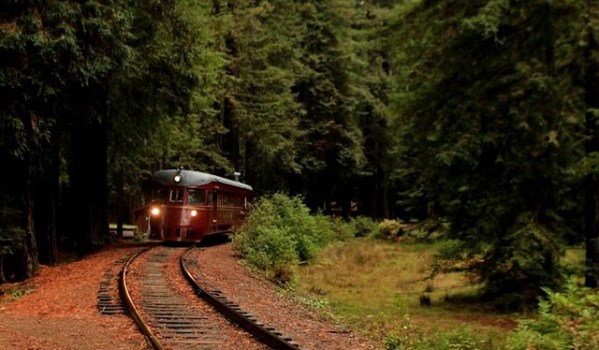 Skunk Train
Ride the Skunk Train out of Fort Bragg for a taste of mushrooms, wine, and beer. The special Saturday, Nov. 2 ride is part of the larger Mendocino Beer, Wine & Mushroom Festival, which sprouts from Nov. 1-11.
A PRINCELY FOODSTUFF: What makes a rare and wonderful edible? Some might say its ability to easily replace a dish's usual main ingredient, without too much flavor disruption (and some excellent flavor addition). Some might claim a certain rarity or mystique. Others would say a pop culture presence is key, outside of the kitchen. And then there are a hundred other variables, like an iconic appearance, a group that regularly searches out and collects the edible, and scientists who study it. Mushrooms qualify on all fronts, but they qualify on the most important front of all: They're tasty. And should we also add that recipes are very often built around them? When you're the starter of a dish, you can indeed qualify for the title of "a princely foodstuff." And the princely mushroom is given its due regularly, not only in restaurants, home kitchens, and cable food shows, but various California festivals. One of the largest and longest sprouts up in Mendocino County every November, and two classic beverages tag along for the fun. It's the Beer, Wine & Mushroom Festival, and it is set to run from Friday, Nov. 1 through Monday, Nov. 11 around the county.
DELICIOUS DOINGS: "Mendocino County is home to more than 3,000 mushroom varieties," says the fest site, so you can bet that the to-dos'll be varied and yummy. One we're loving is the Skunk Train's annual Mushroom, Beer, & Wine ride out of Fort Bragg. Scenery and savory eating? Sold. Mushroom Exploration Tours out of the Stanford Inn, cooking classes, and beer tastings dot the roster, too. Hmm, did you go beer or wine with your last mushroom-heavy dish? Perhaps the experts can weigh in on what libation summons fungi's finer points. And, to cap it all off -- mushroom joke there, yep yep -- you'll be in Mendo in the heart of fall. It's a princely place and time of year to match a princely foodstuff.