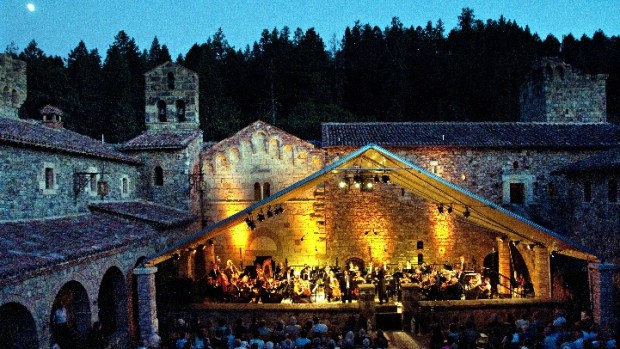 Festival del Sole
The Napa Valley Festival del Sole opens on Friday, July 15.
FOOD, CELLO, STARS: If you've ever seen photos or video from one of the alfresco music extravaganzas that dot Italy each summer, you've likely stopped whatever you were doing, the better to fully concentrate all of your senses and longings on the video in question. But seeing an opera in a very old amphtheatre sometimes has a way of not showing up on lot of people schedules, which is a shame. Not a shame? The fact that Festival del Sole, which summons the spirit of the great Italian classical concert, takes place in Napa Valley each summer. As it will again in 2011; it opens on Friday, July 15 and runs through Sunday, July 24.
ON THE MENU: Celebrated stars of the classical and instrumental world will appear; think soprano Nino Machaidze and the Emerson String Quartet. Note that some shows will take place in "candlelit wine cellars" which appeals no end. A dinner at Mondavi, a Taste of Napa, and Kuleto Estate Vintners Luncheon are just some of the culinary to-dos dotting the Festival's calendar. For tickets and dates and those candlelit wine cellars, check the Sole's schedule in full.