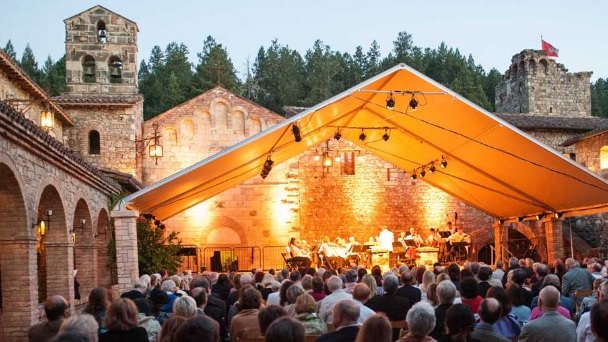 Festival del Sole
Festival del Sole is one of the grand summertime music-meets-food-meets-wine happenings of the Napa Valley summer. It opens on Friday, July 12.
ABROAD IS HERE: When we read of people going to Europe, say the great opera venues of Italy, or our friends finally fulfill a dream and make the flight, we're apt to sigh a little and think "if only we, too, could have some of those great classical music series, series that spread beyond the stage and become about dining and vino and the foodly pleasures and the pleasures of relaxed summer socializing." Okay, granted, that's a pretty involved thought to think while sighing and feeling a touch envious, but the gist is there: We want that, all of that, only closer to home. Of course we do have it, in several ways, in several places around the Golden State, and one of the leaders? Festival del Sole, a Napa Valley warm-weather tradition and one of the major cultural confabs on the wine country calendar. So even if a trip to La Scala isn't on your itinerary this summer, a visit to Calistoga or Yountville or Napa can be.
AND THE DETAILS... Festival del Sole opens on Friday, July 12 with a concert by Audra McDonald and a fancy supper at the Napa Valley Reserve. Other dates during the week-plus run include an Allegro Brunch at the Miner Family Winery on July 14, a dinner and concert at Far Niente, and the 24 Hour Plays on that same night (Christopher Meloni and Calista Flockhart are two of the announced stars for the write-'em-and-stage-'em-lickety-split productions; the venue is the Lincoln Theater in Yountville). Call it a vacation of the mind and heart, if you will, though that isn't quite right, given the role of the palate. It is an ideal weaving together of theater, foodie pursuits, and summer in wine country, so we'll leave it there. And we don't doubt that people elsewhere envy their friends when they journey to Napa for the festival. Can't a little trip longing work both ways?