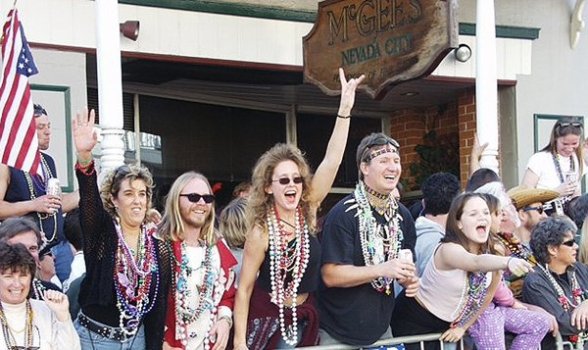 Nevada City Chamber of Commerce
Nevada City truly is in touch with having a good time. Want a small-town scene for your Mardi Gras? Be there over the first two days in March.
BRASSY TIMES: There are some towns that are so connected to the spirit of celebration that you kind of feel sorry for all other cities everywhere. Having a good time just seems to come more easily to these places, places that seem to depend on a little ingenuity, cheek, imagination, and a dash of admirable foolhardiness to stir up some fun. Nevada City is very much one of these towns. So much so the Gold Country village could teach a night course in throwing lively parades and holiday events and wearing costumes around town when costumes aren't actually called for. Maybe it's the strong live-and-let-live-y streak of the place, or its Bohemian, take-no-guff spirit, but the N.C. is always apparently having a pretty excellent time. That fun zooms up during Victorian Christmas and the summertime Soapbox Derby, for sure, but the town's Mardi Gras deserves a crown made of shiny plastic beads. It just feels a little homegrown and a little let-loose, with loads of community spirit. Not to mention weird vehicles and outlandish outfits and carnevale masks and rampant frivolity.
DATES AND DETAILS: The feathery haps roll over the first two days of March. A Sunday parade down Broad Street -- that's the one with the National Hotel and all of those 18th-century-esque buildings -- is certainly a highlight, but a Saturday night Masquerade Ball at the Miners Foundry will be a gas as well. (By the by, have you seen the Miners Foundry? One of our state's ten most interesting historic buildings, and, we're definitely not one to embrace rankings. But this fits.) Whatever you do, clothing shall be colorful and sparkly throughout the weekend, so come prepared. "Funky" is a word that has plenty heaped on it, but let us use it here, in its best and true sense: Nevada City greets an occasion in its own funky way, meaning no judgment, good times, and a gentle outlandishness that is never forced but, rather, arrives full of flow.