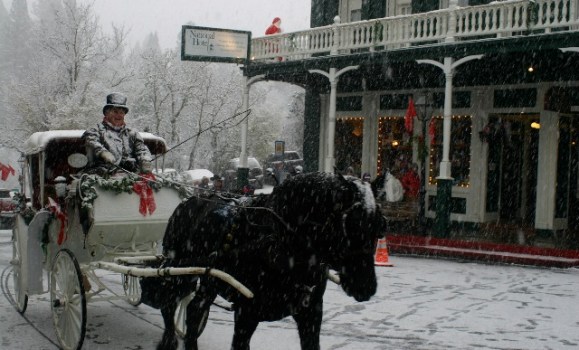 Nevada City Chamber
Nevada City's Victorian Christmas celebrations are loved by locals, visitors, and a certain Mr. Claus. The Gold Country burg's annual froolala clip-clops on select nights starting on Dec. 4.
HONESTLY... if you have a town that looks like Nevada City, you need to consider all of the party potential and celebration possibilities. All villages and towns and cities throw shindigs of some sort throughout the year, be those shindigs parades or fireworks or historic anniversaries. But few places are as colorful and consistently themselves as Nevada City. Been to the Gold Country burg? Can you picture Main Street or Broad Street or any of the streets of the historic core? Yep, most of the buildings are very thematically ye olde Victorian, at least the Old West's version of that (meaning the architecture leans more "stylish rootin' tootin'" and less "stiff regal opulence"). So when considering party possibilities, a town like that must think what would fit best, in all ways, with the feel and atmosphere of the place. Nevada City's annual Victorian Christmas cuts that particular mustard so very well. The December happening -- well, it happens over a few nights, not every, note -- is so charming and carol'd-out and clip-cloppy and festive, it really is like time-machine-ing back.
EXCEPT FOR THE FUNKY: Yep, the N.C. comes with a hefty dose of bohemian flair, which we all love it for, which makes Victorian Christmas not exactly 100% authentic but pretty dang close. Picture people in hoop skirts and bonnets talking with other people wearing full-on giant Christmas tree costumes. Other fa-la-la-esque touches include "carriage rides, live entertainment, savory yuletide treats, and libations, and of course, Father Christmas!" All with the backdrop of some of the postcardiest buildings in all of NorCal. Want to go? Don some jingle bells or similar and make for Nevada City on Dec. 4, 11, 15, 18, and 22.