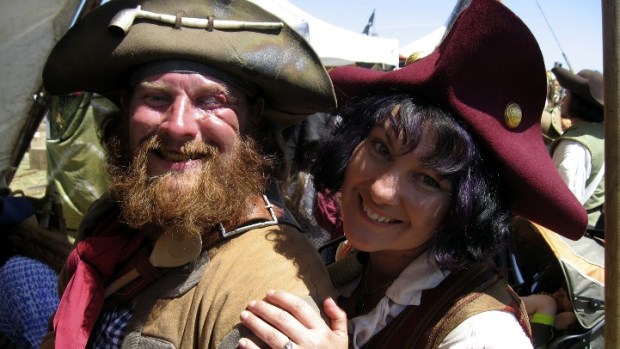 Steve Morales
The NorCal Pirate Festival swings into Vallejo on Saturday, June 18 and Sunday, June 19.
GOLD/BOOTY/ARRR: There are those people who hear about a pirate festival and think, "yeah, that's cool. But I gotta run by the costume shop for some breeches, and breeches-type accessorizing." Then there are those who always have their tri-cornered hats and ruffle-wristed shirts and buckled shoes dry-cleaned and waiting by the door. Second group? Bravo. First group? Best get your breechy get-up together, because "the LARGEST Pirate Festival in the Country" is grabbing a mast and swinging into Vallejo. It's the NorCal Pirate Festival, and it is marking its half-decade anniversary in 2011. Yarrr! (Is "yarrr" something to say in pirate-ese? We want it to be.)
DATE AND DETAILS: The free festival will be crossing swords and knocking wooden mugs on Saturday, June 18 and Sunday, June 19. Are you thinking Father's Day? We're thinking Father's Day. The organizers have already thought Father's Day; it's on their site. If Dad never misses his big "Pirates" blockbusters, this could definitely be his thing. And speaking of such, there will be Johnny Depp Fan Fest, a treasure hunt (5K bucks in gold coins=the booty), and cannon battles. There are a lot of various activities happening, so check the site and times before setting sail. We just hope -- hope -- someone will swing from something and sing a ribald little shanty while doing so. That'll probably happen.