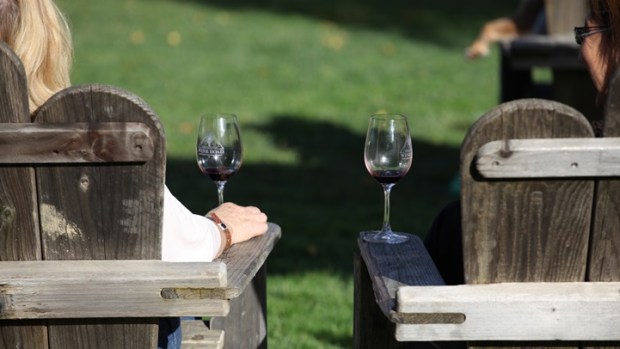 Wine Road
Know the wineries of Northern Sonoma? You can journey the celebrated Wine Road, a sip at a time, at "A Wine & Food Affair" on Saturday, Nov. 2 and Sunday, Nov. 3.
THAT SAME SPOT ON THE SHELF: One day grocery store scientists -- those exists, of course, professionals that study the why and how of our shopping habits -- may one day release the fact that we only ever visit the same 32 shelves each time we shop. Well, why wouldn't we? It has already been stated, fairly factually for most people, that we wear 20% of the clothes in our closets 80% of the time. (True for you?) And we'll just guess, fairly factually, that you tend to gravitate to the same wine shelf, visit after visit after visit. Oh, sure, you may venture into the rieslings and sparklings at holiday time or if you're purchasing for a party or friend. But that one pinot you can't give up? It's appeared in your shopping trolley dozens of times, for sure. Which is why a wide-swath wine weekend is a welcome thing. It de-shelfs your habits and gets you thinking outside of the aisle. You could find four or six new wineries that'll be your go-tos. And, if anything, you're out on a fall weekend, sipping and eating and enjoying the moment. Good? We can all agree that it is. And one of the majors of Northern Sonoma is just ahead. It's "A Wine & Food Affair" and it falls on...
NOVEMBER 2 AND 3: The Saturday and Sunday following Halloween, when all of the candy-and-costume hubbub has subsided. Some 107 wineries in and around the county's Wine Road will participate, meaning that the "wide swath" mentioned will be wider and perhaps swathier than most events of this type. Vineyards along the Russian River, Alexander, and Dry Creek Valleys have signed on, and your role? Get your commemorative glass and cookbook and get supping (you'll be supping upon bites from the "Tasting Along the Wine Road"). Cost? It's $70 for both days, or $50 for Sunday. Also, designated driver tickets are available at a discount. Call this moment, the first weekend in November, the one quiet and restful stretch in the holiday busyness. Why not find a new favorite wine with your downtime? It'll stir up your grocery store trips, for sure.