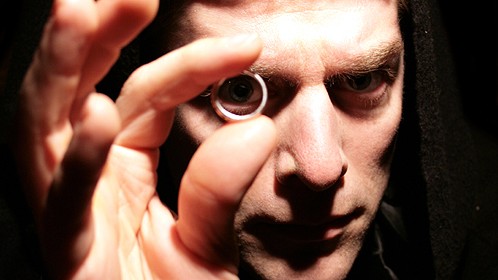 Charles Ross
Charles Ross will take on "The Lord of the Rings" -- alone -- in San Jose. His show opens on Tuesday, July 24.
HOBBIT HANKERING: There's an interesting way to tell your good friends from your really good friends this summer and that is this: If you're a serious Tolkien fan, and you loved the film trilogy, all you need to do is ask a buddy what he or she is doing on December 13th, 2012. If they have an immediate answer -- "oh, I'll be watching 'The Hobbit, Part 1,' probably first thing in the morning -- then they deserve an immediate high five. If they don't recognize the date as the release of one of the most anticipated films of the decade, you are free to school them (and we think every good friend deserves the chance to graduate to "really good friend"). And if you're feeling the Hobbit-based hankering like so many are, here's a way to make the wait a little funnier: The one-man retelling of "The Lord of the Rings."
ONE GUY, TONS OF TALE: Charles Ross is the man behind Frodo and Gandalf and Golem and Sam and everyone else and he moves as fast as a mountain troll's swinging club. He'll be at the San Jose Rep from July 24 through 29 -- thanks for the tip, SanJose.com -- and we're personally hoping some in the audience show, if not in barefeet, Hobbit-style, then in cloaks and crowns. It's a good way for people who will wish they'd made Comic-Con, which'll happen just a week or so before in San Diego, but couldn't, to get their costume on, we think. We'll be dressing elf, probably.