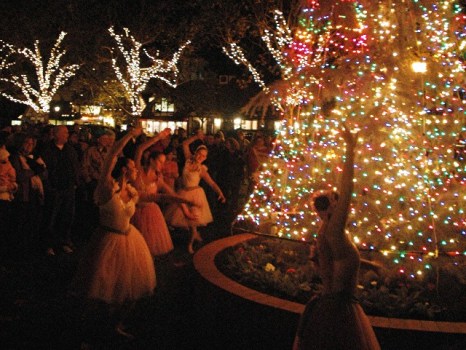 Solvang
Solvang's annual Julefest kicks off for 2012 on Saturday, Dec. 1.
HAPPY JULEFEST: There are three kinds of Christmas towns, apart from a certain town located around the North Pole. One? There are towns with Christmasy names, such as Santa Claus or Candy Cane or Reindeer (lucky them that they get to keep those monikers all year long). The second sort of town is the one with lasting connections to the yuletide, usually from an appearance in a classic of the season (think the mystical Bedford Falls of "It's a Wonderful Life"). And the third type of town? It's the place that just effuses Christmas, not just in December but kind of throughout the year, both via architecture and a bevy of shops that sell ornaments and such. California's own Solvang certainly is in the final category, but perhaps "is in" doesn't go quite far enough; it rather dominates its class of co-Christmasy villages, thanks in part to Julefest, its annual December festivity.
TREE LIGHTINGS TO WINE WALKS: The picture-sweet Danish village has a host of twinkly events lined up for its annual multi-week celebration, including a wine-focused weekend on Saturday, Dec. 1 and Sunday, Dec. 2, a tree-lighting on Friday, Dec. 7, a parade on Saturday, Dec. 8, and Holiday Cheer Around the Village on Saturday, Dec. 15. There's also a nativity happening and other yuletide-ideal to-dos. If you know Solvang, you know it looks like Dec. 25 kind of year-round, meaning that it often makes lists spotlighting the most Christmas-ready places in America. But come the holidays? The sparkle really goes to town. Solvang, we're ready.