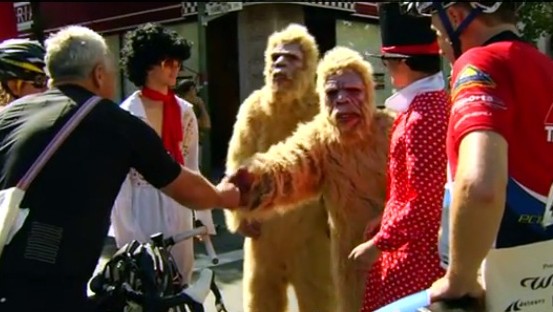 Echelon Grand Fondo
The Palo Alto Echelon Grand Fondo is set to stir up the wacky again -- and runs a few bikes -- on Sunday, Sept. 16.
ONE OR THE OTHER: Perhaps our observation jibes with yours, but it seems that with a lot of outdoorsy sporting events -- think runs and biking days and swims and such -- there's either a bit of a carnival atmosphere or things are very serious and very much about beating best times. There is, of course, a middle ground where both ideas can bloom; an athletic event can be perfectly serious and perfectly focused without being perfectly single-minded on the "let's let loose front." Enter the Palo Alto Echelon Challenge and Gran Fondo, which is quite the elegant cycling day -- running and walking options exist, too -- but you're just as likely to see someone in a full, furry bodysuit at your first water stop. A little bit of both works, right? Especially when it is all done to help area charities. If you agree, and you want to take your cycle through the Palo Alto-adjacent hills, clear your schedule on Sunday, Sept. 16.
WALK, RUN, OR RIDE: The shorter portion of the day -- that's the Echelon Challenge -- takes place in downtown Palo Alto. It's a circuit that's a pip less than a mile and participants are free to go by foot, wheel, or whatever. The Gran Fondo is strictly for the cyclists and the lengths vary -- 30, 75, and 90 miles are the choices. As for the wacky? There are "themed rest stops" along the routes. Pretty cute. See, one can rock a posh name and a serious devotion to athleticism and still let loose. Gran Fondo, we like the cut of your jib.