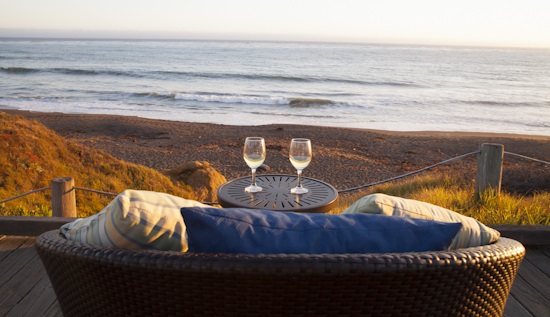 Blue Dolphin Inn
Cambria's Blue Dolphin Inn puts fans of Paso Robles-area libations into the tour seat, just in time for harvest.
THAT HARVEST VIBE: If the idea of toodling around some vineyards come autumn doesn't appeal to you, nor does staying in a quaint bed-and-breakfast in a quaint town by a beach bearing the dreamy moniker of Moonstone, nor does the entire concept of harvest time, well... We'll guess you don't own a corkboard made of wine corks, nor a cork wreath, nor do you have a bottle garden set up on your patio. But if you have one or more of those things? Yeah, you're a wine fan. More than that, you're a smartie about a wide variety of sips, including those that hail from the Central Coast. And you likely know that A) fall is an excellent time to be in Cambria. Any summer bustle is over -- we know, Cambria is the portrait of relaxed and seems to keep summer bustle at bay -- and the charming Cambria Scarecrow Festival kicks in, starting 'round October. So, you say you need a few fresh corks for the cork wreath? And you like a bed-and-breakfast-y beach scene to complete the quaint-a-tude? Yeah, you do. Then best take a look at...
THE BLUE DOLPHIN INN... of Cambria, which is offering a Coastal Wine Package from Sept. 1 through Nov. 30. That's three prime-harvestian months to spend a couple of nights near Moonstone Beach and jump onto a "short and scenic drive through Paso Robles wine country" with The Wine Wrangler, which "will provide a comprehensive wine tasting tour of some of the reputed region's most acclaimed vineyards." The tour lasts for four hours, so, yep, you'll cork-up (if you head back to the Inn with a few bottles, of course). Starting price for two people? It's $499. Is there a comp breakfast? You have to have a good meal before heading out into wine country, right? And will you get a Cambria Inns bottle of wine? For sure. There's another cork for your cork collection, wine lover. Just remember to write on it Harvest 2014 and The Blue Dolphin Inn, for memory's sake.