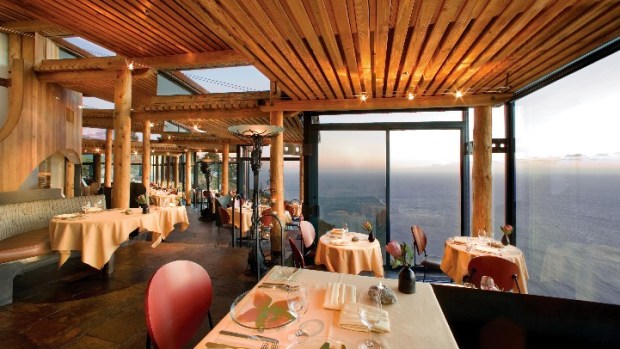 Kodiak Greenwood
A fancy-pants lunch at Post Ranch's own Sierra Mar? Hello, views and tasty eats.
BIG SUR DAY TRIP: Remember those fabulous films from the '60s, where a New York couple would jet off to Rome for dinner at a favorite restaurant? Yeah. Those linger in our particular craw, because that sounds like the life. Sorry, make that The Life. Just jumping on a big jet plane (this was the '60s, so "big jet plane" was the appropriate term) and heading for somewhere special, not for a week, or a month, but a single meal. Of course, we live in California, where several special event meals are a half-day's drive away (or less). And while the word "destination" is usually used to describe a place you'll go stay, a destination meal might just mean a place you'll go lunch or sup before returning home. It's a nice concept, especially when a place is as nice as Post Ranch in Big Sur. A stay at the rustic-posh resort, famous for its cliffside views, might not be in the cards for you right now, but a destination lunch at the resort's own Sierra Mar restaurant might be.
ON THE MENU: A new three-course lunch from executive chef John Cox is serving up a lot of local goodness and other rare deliciousness. Our eyes are falling on the Morro Bay Oysters on the Half Shell (cucumber, basil seeds, and lemon verbena all play roles) and the Wagyu Burger. You can get your pdf on here -- it makes a nice little mind vacation, planning what you might enjoy -- and you can peruse the ranch at large here. And the cost? Forty bucks for three courses. Definitely less than jetting off somewhere for a single meal, even with gas included. Plus, those crystal Pacific views? Complimentary.