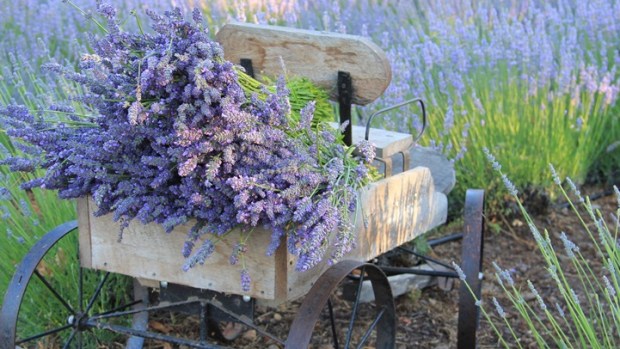 Sonoma Lavender Festival
Ever wanted to see a lot of purple purpling up a single place? Make for the Sonoma Lavender Festival on Saturday, June 28.
STUNNING SETTING: There was a day, in music videos, when great fields of something in bloom became all the rage, as a setting. Sunflowers were a popular choice, as were wildflowers, as were roses and violets and fill-in-your-favorite-flower. The ballads were often enhanced by the beauty of the scene, so it is clear why the singer or bands or, more than likely, the director chose to go with something wide, deep, natural, and highly colorful. But few flower fields are as evocative of place and scent and a certain elegant joie de vivre as a lavender field. Lavender flowers say wine country, yes; they're a common symbol of certain parts of Southern France and several pockets of the U.S.; and you just want to smell any television or film screen they appear upon. That would be a little weird, right? So the lavender lover's best bet is to turn off the screens and make for a five-acre lavender field that's currently in "full bloom." Make for the Sonoma Lavender Barn in Kenwood and be there on Saturday, June 28 and Sunday, June 29.
THAT'S PARTY TIME... or sniffin' time, if you prefer. The Sonoma Lavender Festival is on, meaning free seminars on growing lavender and its benefits, and demos aplenty, and craftmaking, and just about everything to do with the lovely lavie that you can imagine. Music and wine are part of the purple days, too. Cost? Twenty bucks at the door. Dress code? None, but you're totally wearing something in the periwinkle-grape-violet family, right?
FINAL QUESTION: Do you lean down to smell the purple buds or do you rub a leaf a little between the fingers to release aroma? Both? Both is nice, though beware of the occasional bee.)