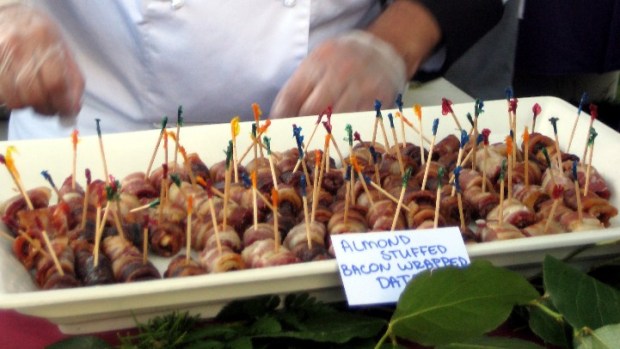 Raley's Grape Escape
Raley's Grape Escape preps to bacon-date it up in Sacramento on Saturday, June 4.
YEP. BACON DATES: There are a lot of tasty images over at the Raley's Grape Escape site. Happy people clutching wine glasses. Ear after ear of juicy corn, lined up on a grill. And then we spied the almond-stuffed bacon-wrapped dates, and the calendar came out, and Saturday, June 4 was circled in big, red pen (a pen we save for bacon-based events). Whether or not this savory is a favorite of yours, you can bet you'll find something delicious at the big foodie outing. Why? Because the best of the Sacramento restaurant scene will be making a showing.
PLUS AREA WINERIES: Barefoot Winery, Bogle, and Twisted Oak will all have a presence at the afternoon-evening hobnob, as will capital chefs like Adam Pechel of Tuli Bistro. If you've been wanting to get up to speed on the Sacramento eat scene, June 4 is sure to be a fine day to make a go. An advance ticket is $40. Our only issue is if we spy something like bacon-wrapped dates upon arrival. Because it might be hard to leave that table. Sorry, other tables.