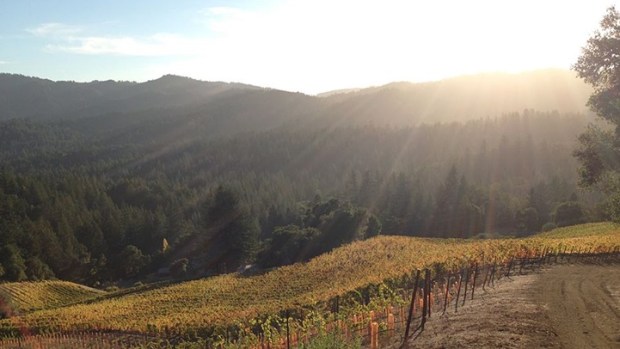 Big Basin
Spots like Big Basin will open for the four-times-a-year Santa Cruz Mountains Winegrowers Association passport. The next date? Saturday, Jan. 18.
TWO DECADES ON: It's impressive, truly, to think that the every-so-often wine passport offered by the Santa Cruz Mountains Winegrowers Association has been around for two decades now. Actually, make that two-plus decades. Truth? Anything that hangs around for a decade, much less two, has that golden but hard-to-define -- and harder-to-obtain -- element called "staying power." What makes it? Well, quality, surely, and rarity of product likely adds to the concept's glow. But staying power also emerges when a business or event gives people a little something more, that magical extra thing that they won't necessarily get the next week, or the next. The Santa Cruz Mountains Winegrowers give that something extra at passport time when a number of wineries "generally closed to the public" throw open the front doors -- or gently unlock them, we suppose -- to welcome oenophiles. That's a pretty big selling point, in a lot of weekend wine-finders' books, for sure, the chance to go to places normally off-limits. But the passport is also choice for this reason: You'll drink some good and uncommon and interesting vintages. Good enough? Indeed.
DATES AND DETAILS: The next wend through the Santa Cruz-close hills is on Saturday, Jan. 18, and, yes, we wrote "wend" there, because that's the poetic spirit one should assume when spending the day among beautiful vines and rare labels and the people behind the grapes. Alfaro Family Vineyards & Winery, Clos LeChance Winery, and Myka Cellars are three of the participating passport stops. Oh, and Big Basin, too, which happens to be one of the usually-closed-to-the-public wine-a-teriums. Don't forget to get your passport stamped as you go, oh, oh, oh, and you can buy it for $45 at any of the wineries listed. Good stuff? Only four times a year? Get to wander into wineries you never get to see? Three yeses there, and a hip hooray for two-plus decades of Santa Cruz wine passport staying power.