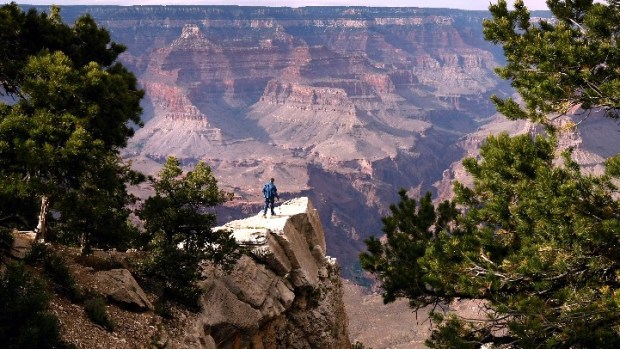 Getty Images
Love that canyon? There's a new (and old) place for you to bed down.
CANYON CRED: When people go around swingin' the word "old" in the vicinity of the Grand Canyon, they best be careful. After all, what is old in human-built terms -- say a hotel or gift shop or train station -- and what is old in rock-formation terms -- say, the Grand Canyon -- are rather far apart, to make a vast understatement. Still, with all due respect to that fact, we do get a frisson of vintage-loving excitement when visiting the older buildings of the South Rim. After all, El Tovar? Yep, that's crossed more than a century. If the Grand Canyon had thoughts -- and we think it probably does -- then it might be a bit impressed by that. It might also be impressed to learn that the Red Horse Cabin, which is, at 122 years, the oldest building on the South Rim, has just reopened for overnight visitors after a 40-year closure.
MEET THE RED HORSE: We're pre-charmed by this story. One? Bet people who remember the cabin from when they were knee-high will be back with their own grandkids. Two? It has quite the history. It was moved from a nearby ranch, and it served as the Grand Canyon's post office from 1910 to 1935 (meaning that if you dream of people mailing letters, don't be surprised). And three? Mary Colter, the great architect of the west, saved it from demolition back in the day. In short, the stars are above and all around the Red Horse, and people who book it are lucky, indeed. It's a two-bedroom building and it goes for $340 a night. Want a quick snap recently sent our way? Sure you do. Here it is.