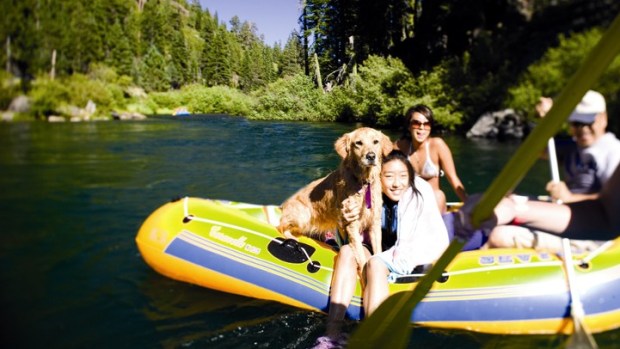 Jeff Dow/North Lake Tahoe
Rafting opened on the Truckee River on Friday, Aug. 5.
LET'S FACE FACTS: It's August. You may know that -- heck, we all know that -- but August tends to wrap quickly as months go, and that's even with having 31 days. What with the back-to-school-ing, which has already begun in earnest, and the summer-Friday-ing ending, which will soon begin in earnest, people take the last full month of summer for granted. Which is why, when we say that rafting on the Truckee River in North Tahoe just opened on Friday, Aug. 5, we say it with a special note in our voice (or our fingers, as the case might be right now). How many more lazy, lovely, languid chances are you going to have this year to go the cut-off denim, shoulders-bared-in-a-cooling-halter-top route? We're just saying.
THE DETAILS: There are a couple of companies offering "five-mile floats." Those three words immediately put us at ease. You just know that by mile three those shoulder knots'll be untwisting. And the Truckee, too. Other western rivers get the love, and they deserve it, too -- hi Colorado, don't blush, we're thinking of you -- but let's be sweet on the Truckee, too. It's pretty as all-get-out, which is about the highest praise we can deal out.