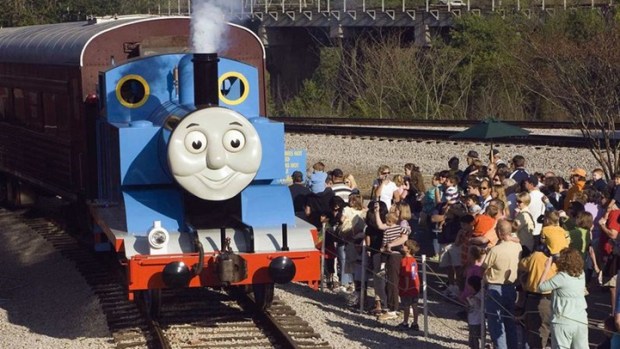 A Day Out with Thomas
Thomas the Tank Engine will toot-toot into Roaring Camp Railroads for two weekends: the final weekend in July and the first weekend of August.
MEETING AN IDOL: When most people think of getting to meet an idol or a legend or a superstar they truly look up to, they thing of a sports figure or an actor or a philanthropist or a teacher or an inspirational figure. But kids? They're far more imaginative than the grown-ups. Meeting someone they admire doesn't always mean that the someone in question is human. The superstar might be a mouse or a rabbit or it might be a full on tank engine. There just happens to be a tank engine that's rather famous, and he is blue, and he has a smile, and he stays cheerful in the face of adversity, and tots in conductor hats tend to get very, very clappy and happy in his presence. His name is Thomas, of course, and he has been around for a good long time in books and on television and in toy form. And, yes, even on actual tracks. That means your young'uns, if they love the British phenomenon, can go beyond the screen and the page and actually take a real ride with Thomas the Tank Engine. He's about to visit Roaring Camp Railroad in Felton for a two-weekend toot-toot.
DATES, DETAILS, DELIGHTS: Thomas rolls into Roaring Camp on Friday, July 26 through Sunday, July 28. He'll take a little rest during the weekdays and be back out again, humming down the tracks on a 25-minute trip from Friday, Aug. 2 through Sunday, Aug. 4. A ticket is $19 for passengers age 2 and older. Plus? There will be activities and entertainments, such as jugglers, magicians, and a bounce house. (Thomas will not be going in the bounce house, but you know he dreams of a day when a bounce house will be built specifically for tank engines to enjoy.) A Day Out with Thomas is quite the family phenom, in many corners of the country, so book sooner than later. Yeah, this is exciting for your young fan. Can you imagine meeting a legend as big, helpful, and industrious as Thomas?